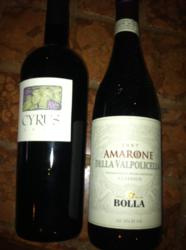 Houston, TX (PRWEB) December 14, 2012
Carmelo's Italian Restaurant, Houston's premier restaurant for authentic Italian cuisine, recently announced that it has added two Champion wines from the 2012 Houston Livestock Show and Rodeo's 10th annual international wine competition to its extensive wine menu. Alexander Valley Vineyards' CYRUS, Alexander Valley, 2007 was voted Grand Champion Best of Show and the Bolla Amarone, Veneto, 2007 was chosen as the Top Country Wine (Italy).
Each year, the Houston Livestock Show and Rodeo hosts The Rodeo Uncorked! International Wine Competition, a private judging event that determines which wines will be featured at the Roundup and Best Bites Competition. A qualified panel of expert judges spend countless hours tasting an array of wines to determine the winners in categories ranging from Top Texas Wine to Top All Around Winery.
Both of the award-winning wines perfectly compliment a holiday meal at Carmelo's Italian Restaurant. The restaurant will be serving their regular menu in addition to their December Specials plus Roast Turkey and Baked Ham on Christmas Day from 11:00 a.m. until 3:00 p.m. The restaurant is also accepting reservations for Christmas Eve and New Year's Eve, where guests will enjoy an evening of complimentary party favors and Pino on his accordion, along with fabulous food and libation.
Carmelo's Italian Restaurant has wine rooms, private dining rooms and event rooms available for Christmas and holiday parties. For further information about Carmelo's Italian Restaurant, including a complete extensive wine list and information about the restaurant's holiday hours and events, visit the Carmelo's Italian Restaurant website.
About the company:
For authentic Italian food in a place where customers are treated like family, visit Carmelo's Italian Restaurant, a 2012 Open Table Diner's Choice, which just celebrated 31 years in Houston. Carmelo's was founded by its namesake, Carmelo Mauro in 1981. The Authentic Italian restaurant features signature dishes such as Ossobuco, red snapper mango over risotto pancake, oysters with champagne reduction, and fettuccine Carbonara. Sensitive to client's wishes Carmelo has also introduced delicious Gluten Free and Vegetarian menus. The restaurant also offers a wide selection of wine, beer, cocktails and hors d'oeuvres. Carmelo's has been recognized for its impeccable selection of wines and has received the Wine Spectator Award of Excellence numerous times. Carmelo's Italian Restaurant is located at 14795 Memorial Drive in Houston and 504 E. 5th. St. in Austin. For more information, call (281)-531-0696 or visit Carmelosrestaurant.com.