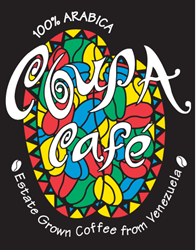 The holidays are a time for giving and what better than to share the best Coupa Café and Venezuela has to offer.
Beverly Hills, CA (PRWEB) December 14, 2012
Chef and owner Camelia Coupal of Coupa Café in Beverly Hills is sending home sweet treats for the holidays in the form of personalized Venezuelan gift baskets. The gift baskets are customized to offer an assortment of coffee, hot chocolate, tea, wine, chocolate, mugs, and gift cards for the restaurant.
"The holidays are a time for giving and what better than to share the best Coupa Café and Venezuela has to offer," said Camelia Coupal. "We have included items that can be enjoyed by the entire family, and they are the perfect gift for those looking for something more unique than the usual gift basket."
Ideal for gifting an individual or the entire office, Coupa Café has a range of gift basket varieties. Coupa's award-winning, aromatic Venezuelan coffee can come ground or whole bean in ½, 1, and 7 pound bags. Their hot chocolate, also from Venezuela, is made from 100% Venezuelan cacao. Wines from Argentina and Pyramind teas can also be added for those young, non-coffee drinkers. Chocolate bars imported from Venezuela can be added to this specialty basket to offer more sensational tastes. For those looking for a simpler gift, Coupa Café coffee mugs as well as gift cards are available for purchase.
About Coupa Café
The living Venezuelan restaurant features a completely new style of international dining which combines the best of Venezuelan dishes with the philosophy of the modern slow food movement promoting the use of organic and fair trade ingredients. Coupa Café is the only restaurant outside Venezuela where patrons can enjoy the nation's shade grown, handpicked, patio sun-dried, super fair trade organic single estate Arabica coffee beans roasted in small batches, along with international sweet and savory delights.
In a wonderful environment with an original California Bow Truss ceiling, the restaurant offers a resort-like spaciousness. The large outdoor seating area resembles a tropical garden with an exotic water fountain and hand painted tiles. The sidewalk seating is ideal for people watching. On cooler days, guests can enjoy the warm indoor fireplace are and a relaxed atmosphere for dining and lounging. The extensive menu also offers delicious arepas, empanadas, paninis, salads, pizza, pasta, crepes, full breakfasts, pastry, and an extensive selective of beer and wine.
Coupa Café, 419 North Canon Drive, Beverly Hills, CA 90210
Open Sun – Tues – 9:00am to 9:00pm, Wed – Sat – 9:00am to 10:00pm
Happy Hour seven days a week from 4-7pm
http://www.coupacafe.com
Follow Coupa on Twitter @CoupaCafeBH