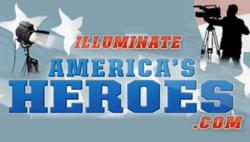 This radio spot is designed to raise awareness of the acts of heroism by Ambassador J. Christopher Stevens; Consulate Info Officer, Sean Smith; and Navy SEALs, Tyrone Woods and Glen Doherty, who died in that terrorist attack in Benghazi, Libya
McLean, VA (PRWEB) December 14, 2012
David C. Jamison, Founding Board Member and Executive Director of the Foundation to Illuminate America's Heroes, (http://www.illuminateamericasheroes.com)
announces the release of the first "Benghazi Heroes Radio Commercial" on YouTube to complement the "Campaign To Remember Our Benghazi Heroes" announced two weeks ago. "This radio spot is designed to raise awareness of the acts of heroism exhibited by Ambassador J. Christopher Stevens; Consulate Info Officer, Sean Smith; and Navy SEALs, Tyrone Woods and Glen Doherty, who died in that terrorist attack on the U.S. Consulate in Benghazi, Libya, September 11, 2012."
You can hear this first radio spot by clicking on http://youtu.be/LafwpylYXLM. The Foundation is appealing to patriotic Americans to make a tax deductible donation to the Foundation to enable it to run this spot on stations across America as a launch of the national media campaign (http://www.benghaziheroescampaign.com).
The National Director of the Foundation's "Campaign To Remember Our Benghazi Heroes" is Nolan W. Peterson, a journalist and former Air Force special ops pilot, who describes himself as "disappointed by the way the media has covered the Benghazi attack". "The media conversation has been focused on sex scandals and political intrigue," he says, "and not on the most important part of this story, which is—what really happened that night in Benghazi? This is the "Blackhawk Down" of our generation, and the media has largely ignored it."
"Our national campaign will demand that journalists ask and seek answers to the following questions," Peterson stated:
(1) Why was Ambassador Stevens in Benghazi on the night of September 11, 2012 and not at the U.S. Embassy in Tripoli?
(2) Why was the U.S. Consulate in Benghazi denied the extra security it requested?
(3) Was General Ham relieved of command of AFTRICOM because he intended to send a rescue mission to the U.S. Consulate facility in Benghazi?
(4) Why were U.S. military assets in the Mediterranean not put on alert for the September 11th anniversary? U.S. F-16s on alert at Aviano AFB, Italy could have been in Benghazi in less than 2 hours—if they had been on alert.
(5) Why did Defense Secretary Panetta wait five hours before issuing orders to deploy special operations forces to respond to the Benghazi attack?
(6) Why did it take 24 hours for the first U.S. troops to arrive in Libya after the attack?
(7) Why have we not heard testimony from the survivors of the Benghazi attack?
(8) Why did Secretary of State Hillary Clinton not publicly answer questions about the Benghazi attack and why did Ambassador Rice go in her place?
(9) What support was requested by ex-Navy SEALs Woods and Doherty? Why did Woods and Doherty paint targets with a laser designator if no aviation assets were available?
(10) Was there an AC-130 gunship on scene in Benghazi, and was it refused permission to engage?
"These questions and getting answers to them is the goal of the massive national media campaign which was announced by the Foundation through a press release two weeks ago, to insure that the heroes of Benghazi are not forgotten and that the truth be told", said Peterson.
The Foundation is seeking donations from patriotic Americans to support a massive national media campaign to redirect the national conversation back to the pursuit of the true story of what happened that fateful night in Benghazi. "We are demanding that these tough questions be asked and answered." Said Jamison, "because we believe that this is what the families of the fallen and what the American people deserve. Our Campaign will only be limited by how much support our Benghazi Heroes receive NOW, from patriotic Americans who will act for them, as they acted for us." Please visit our Benghazi Heroes website and personally donate as generously as you can to help us honor and illuminate our Benghazi Heroes.(http://www.benghaziheroescampaign.com)
"The Foundation's campaign is designed to insure that these heroes of the Benghazi attack are not forgotten," Jamison added. "Our memories of them, who they were, what they heroically did and how important they are to us and our country will be kept alive through this massive national media campaign, using radio and television spots, the internet, interviews, articles in popular magazines and a possible future documentary. You can help tell their story by your donations to this project. Only in this way can we truly honor the lives of these four fallen heroes."
The Foundation is also making a personal appeal to all patriotic Americans to virally spread the word of this this National "Campaign To Remember Our Benghazi Heroes"--To Remember, Honor & Illuminate Our Four Heroes of Benghazi who heroically lost their lives in the terrorist attack on our Consulate in Benghazi, Libya on September 11, 2012 at http://www.benghaziheroescampaign.com, through all social media; sharing a link to this press release with their best contacts and members of the media they know; and to email links to their Twitter accounts and on their Facebook pages.
Our "Benghazi Heroes Radio Commercial " on YouTube is also available right here in the video box to the right of this Press Release.( http://youtu.be/LafwpylYXLM)
For further information and/or questions about this Heroes of Benghazi Campaign, please contact Nolan W. Peterson, National Director of The Campaign To Remember Our Benghazi Heroes at nwp04@hotmail.com or at (941) 993-7939. Please also visit our special project at http://www.benghaziheroescampaign.com.
Contact information:
The Foundation to Illuminate America's Heroes, Inc.
The "Campaign To Remember Our Benghazi Heroes"
http://www.illuminateamericasheroes.com
http://www.benghaziheroescampaign.com
davidj (at) illuminateamericasheroes (dot) com
nwp04 (at) hotmail (dot) com