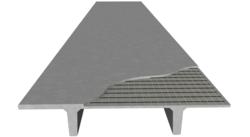 Bethlehem, Pa. (PRWEB) December 17, 2012
A new video from AltusGroup (altusprecast.com), a North American network of 14 precast concrete manufacturers dedicated to innovation, is intended to educate parking garage owners and engineers about the use of carbon fiber grid reinforcing in the flange of precast concrete double tees. The video appears on AltusGroup's website and YouTube channel (youtube.com/altusprecast).
The video details the design and production of CarbonCast Double Tees, which use C-GRID carbon fiber grid as flange reinforcement replacing conventional welded wire mesh. Because carbon fiber grid is non-corrosive and four times stronger than steel by weight, AltusGroup precasters can use less concrete cover atop the reinforcing. A typical 4-inch thick flange can be thinned to 3-1/2 inches, saving six pounds per square foot in weight and reducing the structure's carbon footprint.
The video also explains how non-corrosive C-GRID can eliminate the cost of adding corrosion-inhibiting admixtures to the concrete or the expense and hassle of applying sealers to the deck surface before commissioning and reapplying them every five years.
Also addressed in the video is how CarbonCast Double Tees can meet ASTM E119 requirements for a one-hour fire rating. Calculations based on ICC codes and accepted design criteria show that, just like steel mesh reinforced tees with the same flange thickness, they can provide a two-hour fire rating.
About AltusGroup
The first-ever national partnership of precast companies, AltusGroup was founded to develop, manufacture and market precast innovations such as the award-winning CarbonCast® line of products featuring C-GRID carbon fiber grid reinforcing. With more than two dozen structural and architectural locations in the United States, the 13 AltusGroup companies have an unparalleled national network of manufacturing plants, technical staff and sales personnel to ensure architects, engineers and contractors get the help they need—and the quality and performance they expect—when they select CarbonCast products. For more information, visit altusprecast.com or call 866-GO-ALTUS.