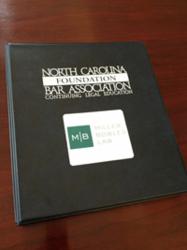 I look forward to furthering my education in family law matters through future continuing legal education courses. - Jennifer E. Paternostro
Charlotte, NC (PRWEB) December 17, 2012
Miller Bowles Law attorneys Kate B. Miller and Jennifer E. Paternostro joined hundreds of other North Carolina attorneys at two recent continuing legal education courses offered by the North Carolina Bar Association and the Mecklenburg County Bar.
Jennifer attended the New Admittee Professionalism Program required for all new members in their first year of admission to the North Carolina State Bar. Along with many other newly admitted members of the State Bar, Jennifer was instructed by seasoned attorneys on a myriad of issues faced by new attorneys, including: the attorney-client relationship, maintaining a healthy work/life balance, and professionalism. Additionally, Jennifer had the opportunity to learn from many District and Superior Court judges as they spoke of their distinguished careers, courtroom etiquette, and best career practices for attorneys.
Kate and many other family law practitioners attended "The Modern Family: 2012 Basics of Family Law" continuing legal education course this fall. The topics covered in this course included:

Alimony and Post-Separation Support
Preparing and Managing Child Support Cases
North Carolina Laws of Contempt
Model Parenting Plan and Guidelines
Wiretapping and Electronic Surveillance
Bankruptcy
Alternative Dispute Resolution
Identification and Division of Various Types of Retirement Benefits
"Attending continuing legal education courses focused on family law issues allows us the opportunity to fine tune our skills as family law attorneys. In addition to learning the most recent laws and procedures related to family law, we have the ability to review the basics we use in our everyday practice with other family law attorneys from all over North Carolina," said Kate of "The Modern Family" continuing legal education course.
Miller Bowles Law is a full-service Charlotte Family Law firm located in the historic district of Dilworth in Charlotte, North Carolina. The attorneys at Miller Bowles Law have over 15 years of combined experience in representing clients in Charlotte family law cases and family law cases in surrounding counties including Union, Gaston, Iredell, and beyond. Our mission, simply stated, is to provide the highest-quality legal representation to our clients so that each feels supported and well-prepared to face the family law court system. Our experience as Charlotte family attorneys has allowed us the opportunity to represent spouses, partners, mothers, and fathers facing issues from child custody to alimony to domestic violence. We understand the enormity of the decisions you face, and we hope our website provides you with a basis of information you can use to understand your North Carolina family law situation a little better. We welcome the opportunity to discuss your personal situation in greater detail to help you understand how the North Carolina family laws apply to you and your family, as well as your best course of action.