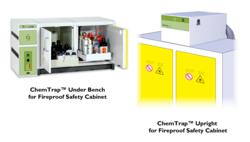 Rowley, MA (PRWEB) December 17, 2012
The new ChemTrap™ filtration system from Erlab eliminates noxious vapors generated by chemicals stored in the fireproof cabinet. In addition, ChemTrap™ allows laboratories equipped with fireproof cabinets to also benefit from a protection against chemical inhalation risks without having to connect to an expensive energy consuming ductwork.
ChemTrap™ working principle is to filter the air from the fireproof cabinet's internal chamber while continually renewing and purifying the air of the laboratory. Designed as a stand alone system with no need for ducting, it provides a simple and fast connection utilizing a universal pipe fitting sheath to a fireproof cabinet.
About Erlab:
Erlab has spent several decades on the research, design, development and manufacturing of cutting-edge laboratory fume hoods. An innovator committed to safety, performance, energy efficiency and sustainability, Erlab has remained number one in the world for non-ducted filtering laboratory fume hoods since 1968.