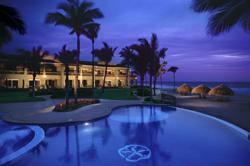 With the recent enhancements, Mazatlán is once again ready to become one of Mexico's top resort destinations and we are excited about the upcoming year
Mazatlán, Mexico (PRWEB) December 14, 2012
Estrella del Mar, an 816-acre Mazatlán resort community situated on 3.5 miles of secluded beachfront, announced renewed optimism going into 2013 thanks to ongoing improvements to the area's infrastructure and increased direct airlift through Cal Jet Air from five major U.S. cities–Denver, Los Angeles, Oakland, Houston and San Antonio. The development recently launched its third phase of condominiums and looks to add to its existing base of more than 215 owners from the United States, Canada and Mexico.
"Estrella del Mar has introduced more than $25 million in overall property enhancements over the past 36 months and we're encouraged to see the ongoing efforts from the City of Mazatlán, the Mazatlán Developers Association and Mazatlán Hotel Association to attract tourists and homebuyers," said Pat Butler, CEO of Club Acquisition Company, developer of Estrella del Mar. "With the recent enhancements, Mazatlan is once again ready to become one of Mexico's top resort destinations and we are excited about the upcoming year."
In addition to the increased airlift, the City of Mazatlán is in the process of several important infrastructural projects. Initiatives currently underway include a $400 million renovation of the Port of Mazatlán, according to Oralia Rice, Secretary of Tourism for Sinaloa. The renovation combined with the opening of the Mazatlán-Durango highway in 2013 will complete a modern transportation link between the Gulf of Mexico and the Pacific. When the 140-mile toll road opens, it will cut drive time between the interior city of Durango and the Pacific port at Mazatlán from seven hours to 2-½ driving both commercial and tourism economic activity. Additionally, cruise lines will be returning to Mazatlan in 2013.
Located less than 10 minutes from the Mazatlán International Airport and 45 minutes from downtown Mazatlán, Estrella del Mar offers a wide variety of incredible amenities and facilities, including the new 68-room Wyndham Las Villas Resort, Robert Trent Jones Jr. championship golf course, full-service spa, spectacular pool complexes and two full-service on-property restaurants. Estrella del Mar is also home to one of Mexico's largest sea turtle sanctuaries, which gives visitors the opportunity to interact with and help preserve one of the world's endangered species.
Condos at Estrella del Mar start at only $295,000 and home sites at $89,000, which is often less than the price of similar real estate options at other Mexico beachfront developments in destinations like Puerto Vallarta and Los Cabos. Each condo residence features state-of-the-art finishes and has been designed to maximize views of the ocean and golf course and has a private walk-out patio with immediate access to the swimming pool and beach, or a private balcony providing outstanding panoramic views of the Pacific Ocean.
Direct flights to Mazatlan are available from numerous major U.S. and Canadian cities, including Dallas, Houston, Denver, Phoenix, Los Angeles, Calgary, Edmonton and Vancouver. Estrella del Mar offers complimentary shuttle service for homeowners and guests between the community and airport, which is located less than 10 minutes away. 
For more information visit EstrelladelMar.com or call 888-587-0609.
About Estrella del Mar
Located in Mazatlán, Estrella del Mar is a premier oceanfront, luxury resort. Situated in an 816-acre, gated community with lush tropical landscaping our owners and guests are privy to Mexico's best-kept secret. Anchored by one of Mexico's top rated golf courses and boasting 3.5 miles of pristine beach, Estrella del Mar offers an unparalleled opportunity for vacation visitors, home or condo ownership not seen elsewhere in the Mazatlan area. Wyndham Las Villas Hotel opened in June 2010 along with the newest full-service Mazatlan spa. The community already has more than 215 property owners from around the world and recently unveiled Phase III of the condos, with starting prices of $295,000 USD for a 2 bedroom 2 and a half bath beachfront unit. http://www.estrelladelmar.com