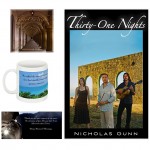 Thirty-One Nights is my 14th album and I have always wanted to offer something special to my fans in celebration of what I consider to be one of my best albums to date.

- Nicholas Gunn
Chicago, IL (PRWEB) December 19, 2012
Nicholas Gunn has been recording world music for twenty years now, during which time he has amassed several million fans and boasts some of the most beautiful music ever recorded.
His latest release, Thirty-One Nights, is nothing short of a breathtaking musical escape to the tropical Mexican Yucatan Peninsula. In celebration of this highly regarded album, Gunn wants to hook-up his diehard fans with Thirty-One Nights inspired swag!
Available only as bundles, fans can choose from three packages: Basic, Deluxe, and Ultimate! Each contain a variation of high quality key chains, mugs, and personally signed prints, CDs, and postcards that are all geared around the Thirty-One Nights theme. Don't expect to just get one of these items as the idea is to offer fans something bundled together, exclusive, and direct from Gunn's personal website.
"Thirty-One Nights is my 14th album and I have always wanted to offer something special to my fans in celebration of what I consider to be one of my best albums to date," says Gunn. "We have chosen really high quality products and I will be personally hand signing each Thirty-One Nights CD, poster, and postcard."
Just in time for the last minute holiday shopper, check out the Nicholas Gunn Thirty-One Nights inspired bundled products now at nicholasgunn.com