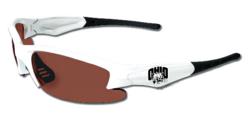 (PRWEB) December 13, 2012
Maxx HD® Sunglasses, the leader in affordable high definition sunglasses, announced today the release of their Ohio University eye wear collection. These Ohio University insignia high definition sunglasses allow MAXX customers to express their school spirit and share in the excitement and tradition of the Ohio University Bobcats, while protecting their eyes.
The Bobcats collegiate sunglasses are proudly offered in the MAXX HD® Dynasty and Retro models. The entire line of Ohio University® sunglasses are highlighted with the school's logo on the arm and are offered in the schools vibrant hunter green and white colors.
"MAXX HD® is pleased to expand our collegiate eye ware collection to Athens, Ohio and share in the Bobcat spirit," stated Bret Milner MAXX HD® President. "We hope that our High Definition shades will be a favorite piece of school memorabilia for Ohio University fans."
To learn more about MAXX HD® Sunglasses or to see their entire line of collegiate sunglasses, please visit their website at http://www.maxxsunglasses.com