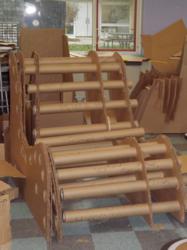 Ayer, MA (PRWEB) December 14, 2012
Contact: Rebecca Stott KLT Industries INC., beckystott(at)kltindustries(dot)com, 978-935-0960
Eighth Grade Students from the Lincoln School in Lincoln, MA have been working diligently on completing cardboard chairs for their eighth grade technology class. The cardboard used for the chairs was donated by KLT Industries, a local recycling company located in Ayer, MA.
Julie Reynolds, their science teacher and project coordinator, stated, "The cardboard chairs that are constructed must undergo several tests before the students can deem them finished. The cardboard chairs are made only of cardboard and glue with no fasteners or metal allowed. When complete the chairs must support 180lbs, be transportable, ergonomic, follow universal engineering design principles, and be able to withstand impact from a drop test 12" above the floor."
KLT Industries donated a large portion of the cardboard used in the two science classes that participated in the project. In return for accepting two chairs made by each of the classes, KLT Industries made a donation of $500.00 to Birthday Wishes on the student's behalf.
Students were presented with a letter of appreciation from KLT Industries for their hard work as well as a certificate from Lisa Vasiloff of Birthday Wishes thanking them for their donation.
Joe Bozek from KLT Industries said, "This has been a great way to help students learn about the many uses of cardboard, recycling, and building principles. We hope the students learn the value of giving to those in need and continue to do so outside the classroom." KLT Industries provides cost-free cardboard and paper recycling to over 80 public schools throughout MA and processes over 12 k tons of cardboard monthly for clients like Wal-Mart, Aubuchon Hardware, iParty, and many more.
The Birthday Wishes foundation provides birthday parties to homeless children throughout New England including New York, Rhode Island and Massachusetts. Headquartered in Newton Centre, Birthday Wishes provides itsprogram to over 175 shelters and transitional facilities.
KLT Industries is the leading recycling company of baled cardboard in the Northeast and also picks up millions of pounds of paper and plastic each month. All material is generated locally, picked up locally and recycled locally. Head quartered in Ayer, MA, KLT Industries also has locations in Webster MA and North Smithfield, RI. KLT Industries services large and small customers and highly encourages businesses to take advantage of our free waste audit service to determine additional recycling opportunities.