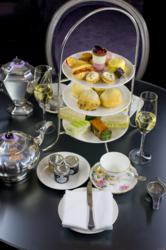 Moroco's eclectic collection of teas appeals to a diverse range of new and seasoned tea enthusiasts
Toronto Ontario (PRWEB) December 17, 2012
It's a custom steeped in tradition and now, thanks to Moroco, tea services in Toronto are about to become chocolate dipped. Moroco Chocolat's popular Tea Treatments have been refreshed providing customers with a unique afternoon outing in the Big Smoke.
A British pastime introduced by the Duchess of Bedford and much loved by Queen Victoria, restorative tea services have long been offered at hotels, inns, and tearooms. Moroco Chocolat has taken things one step further, providing customers with a truly unique dining experience. Teatime participants have the opportunity to sample an expanded selection of Artisan Tea Blends, indulging in decadent flavours like the exclusive Rock 'N Chocolate Reserve Tea selections.
"This isn't your grandmother's tea service," explains Moroco Chocolat Marketing Manager Tracy Somerville. Moroco's eclectic collection of teas appeals to a diverse range of new and seasoned tea enthusiasts (the cleverly named 'Gimme S'mores' chocolate concoction is a popular choice at Moroco's Mad Hatter's children's tea.).
Teatime participants at Moroco Chocolat will enjoy a rotating variety of finger sandwiches, sweets, pastries, and scones alongside their chosen beverage. Not to be outdone by the delicious tea selection, these nibbles are prepared fresh daily in-house by a team of chefs and pastry masters.
And let's not forget about the sipping chocolate.
Moroco Chocolat puts a unique spin on a traditional tea service by including the option of sipping chocolates on their High Tea and Afternoon Tea menus. These pure melted chocolate temptations come in dark, milk, and white flavours, adding an elegant finish to any tea service.
Morcoco's Tea Treatments are available all day, every day (except Mondays) by reservation. For more information or to book your visit, please call Moroco Chocolat at 1-416-961-2202.
Visit the chocolatier's official website for information on all the products and services.