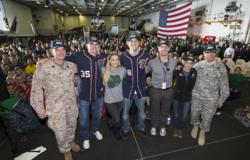 As our nation celebrates the season of giving, it is important for us to focus on the service and sacrifices of our men and women in uniform," said USO President Sloan Gibson. "The USO is extremely grateful to General Dempsey for hosting this tour and...
Arlington, VA (PRWEB) December 17, 2012
Thousands of Servicemen and Women Come Together as the General Teams Up with Washington Nationals, Capitals, Kellie Pickler and Iliza Shlesinger for Spirited Trip Overseas
Twitter Pitch: @Martin_Dempsey @the_USO holiday tour w/ @KelliePickler, @NHLPA member Matt Hendricks, @Nationals @CStammen35, @NationalDet and @Iliza bring cheer to troops
ARLINGTON, VA. (Dec. 17, 2012) – Chairman of the Joint Chiefs of Staff General Martin Dempsey wraps up the first leg of his annual USO holiday tour featuring Washington Capitals Matt Hendricks, Washington Nationals Ross Detwiler and Craig Stammen, critically-acclaimed country music singer Kellie Pickler and comedian Iliza Shlesinger. Bringing smiles, laughter and cheer to servicemen and women stationed in the Middle East, General Dempsey and his group are now venturing into the tour's second phase.
DETAILS:

So far, the USO holiday tour has visited multiple military locations, including the USS John C. Stennis, as well as lifted the spirits of more than 4,200 servicemen and women.
Last December, General Dempsey led his first annual holiday tour as Chairman, delivering fun and cheer to more than 7,100 servicemen and women stationed in five countries. Capping off that tour, the group, along with President Barack Obama and other national leaders, attended a flag ceremony at Andrews Air Force Base that signified the official end of the eight-year war in Iraq.
The Chairman's seven-day, four-country USO tour is designed to deliver a much-needed break to Marines, airmen, soldiers, sailors, coast guardsmen and civilian employees currently deployed or stationed overseas during the holidays. This year's tour is comprised of multiple USO performances and an array of hospital visits and USO meet & greets, each tailored to bring a touch of home to troops.
This trip marks the first USO tour for Hendricks, Detwiler, Stammen and Shlesinger, and the sixth for Pickler, who traveled to Kuwait and Afghanistan in May 2012 as well as participated in her first USO holiday tour in 2008 led by former Chairman of the Joint Chiefs of Staff Admiral Mike Mullen.
Drafted out of high school by the Nashville Predators in 2000, Hendricks played two seasons for the Colorado Avalanche before making his home with the Washington Capitals in 2010. Nominated for the Bill Masterton Trophy for two consecutive years, his career stats include 215 games played, 50 points scored and 22 goals. A native of Blaine, MN, Hendricks was a critical playmaker during the Capitals 2011-2012 playoff run.
A native of St. Louis, MO, Detwiler was selected in the first round (sixth overall) of the 2007 First-Year Player Draft by the Washington Nationals. Starting with his first Major League win, he is 16-16 with a 3.29 earned run average in his last 58 games (44 starts). In 2012, Detwiler set a new career high with 10 wins and 105 strikeouts.
One of five members of the Washington Nationals inaugural '05 draft class to reach the Majors, Dayton University product Stammen thrived in long relief in 2012. In his first complete Major League campaign, he led the bullpen with six wins and a 2.34 ERA. Stammen also ranked among the top National League relievers in innings (second, 88.1), wins (tied-fifth, six) and strikeouts (eighth, 87) this season.
The only female and youngest comedian to hold the title of NBC's "Last Comic Standing," Shlesinger is host of the CBS syndicated comedy show "Excused." Originally from Dallas, TX, her TV credits include her own half hour special on "Comedy Central Presents" as well as NBC's "Late Night with Jimmy Fallon," Comedy Central's "Live at Gotham," E! Network's "Chelsea Lately," "The Soup," NBC's"Last Call with Carson Daily," among others. Coming up, Shlesinger can be seen in the upcoming TBS series "The Last Laugh."
QUOTES:
Attributed to Chairman of the Joint Chiefs of Staff General Martin Dempsey:
"Leading this USO tour overseas during one of the most difficult times of the year has been one of the many highlights of my trip. All of the stars with me, whom I consider my friends, have been nothing short of delightful. It is clear they genuinely care and support our nation's troops, and that our men and women in uniform are grateful for their visit. The holidays are a time of sharing and we accomplished that with this trip."
Attributed to Matt Hendricks:
" Participating in the USO holiday tour with General Dempsey has been an incredible experience so far. I am truly honored to have been in the presence of such brave men and women as the one's we have visited. It has really hit home for me to see the work that the USO does for these service members, how much it means to them and their morale, especially during this holiday time when they are far from home. It's so exciting to be a part of such an amazing mission. "
Attributed to Ross Detwiler:
"For me, the most unforgettable part of this trip has been showing my appreciation to the service members who enable us to lead the lives that we do while they're out fighting for our freedom. I feel truly blessed to get the chance to meet so many brave men and women as part of this USO Holiday Tour with the Chairman."
Attributed to Craig Stammen:
"It has been such an honor to participate in this USO Holiday Tour with General Dempsey. This is definitely a once in a lifetime experience. I really appreciate the opportunity to personally thank so many service members for everything they do and let them know how much we support them back home."
Attributed to Kellie Pickler:
"It brings me joy to be overseas with our service men and women during the holidays, and like all of my past USO tours, this year's trip has been amazing, and I am grateful to be a part of it."
Attributed to USO President Sloan Gibson:
"As our nation celebrates the season of giving, it is important for us to focus on the service and sacrifices of our men and women in uniform. The USO is extremely grateful to General Dempsey for hosting this tour and to all of our celebrity volunteers for supporting the troops this holiday season."
MULTI-MEDIA:
USO Tour Photos: http://bit.ly/RbdQyz
USO Fact Sheet: http://bit.ly/yaebvo
About the USO
The USO (United Service Organizations) lifts the spirits of America's troops and their families millions of times each year at hundreds of places worldwide. We provide a touch of home through centers at airports and military bases in the U.S. and abroad, top quality entertainment and innovative programs and services. We also provide critical support to those who need us most, including forward-deployed troops, military families, wounded warriors and their families and the families of the fallen.
The USO is a private, nonprofit organization, not a government agency. All of our programs and services are made possible by the American people, support of our corporate partners and the dedication of our volunteers and staff. In addition to individual donors and corporate sponsors, the USO is supported by President's Circle Partners: American Airlines, AT&T, Clear Channel, The Coca-Cola Company, jcpenney, Kangaroo Express, Kroger, Lowe's, Northrop Grumman Corporation, Procter & Gamble, and TriWest Healthcare Alliance and Worldwide Strategic Partners: BAE Systems, The Boeing Company, Lockheed Martin, Microsoft Corporation and TKS Telepost Kabel-Service Kaiserslautern GmbH & Co. KG. We are also supported through the United Way and Combined Federal Campaign (CFC-11381). To join us in this patriotic mission, and to learn more about the USO, please visit uso.org.