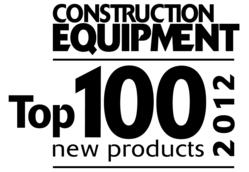 Crystal Lake, IL (PRWEB) December 15, 2012
KNAACK® Jobsite Storage Equipment announces their Field Station jobsite storage system was named on the list of 100 top products for 2012 by the editors of Construction Equipment magazine. The all-in-one cabinet and work station holds everything needed day to day on the job: laptops, blueprints, paperwork, tools, charging devices, and supplies. When the work day is done, the unit locks up tight for secure overnight storage.
"Being included in the TOP 100 list is an honor for us," says Jim Scarlata, Director of Marketing Operations for Knaack LLC. "It affirms that we focused on the features contractors want most; security, durability, and mobility – as well as some newly added accessories and options including a side shelf, storage bins, LED light kit, and a lockable shelf door."
For more than 20 years, the editors of Construction Equipment have compiled and published a list of the TOP 100 products used in the construction industry. In evaluating products for the TOP 100, the judging team considers advances in technology, new product lines, significant improvements to existing products, or products that increase competition in their field. Products are judged in one of 9 categories ranging from heavy equipment such as cranes, to small devices such GPS systems. All 100 products are featured in Construction Equipment's December issue and on the website.
http://www.constructionequipment.com/products/top-100/2012#Ancillary
The Field Station is one of many jobsite storage solutions from KNAACK® Jobsite Storage Equipment. Every box, chest, and cabinet is constructed from heavy gauge steel with fully arc welded seams and a durable powder-coat finish to resist the elements as well as tampering. The WATCHMAN® V Lock System protects the Field Station from pry-ins, drill-outs, and cutting. The optional heavy duty casters and lift kits make all of the units fully mobile.
The KNAACK® Field Station is available through a vast network of construction equipment dealers and distributors. For more information, visit http://www.Knaack.com.
###
About Knaack LLC
Knaack LLC, owned by Werner Co., manufactures and markets a complete line KNAACK® jobsite storage equipment, including storage chests, work stations, rolling work benches and hand tool boxes, as well as, WEATHER GUARD® truck and van equipment, including drawer units, shelving and cabinets, and racks for full size and compact pickups, vans and utility vehicles.
About Werner Co.
Werner Co. is the world leader in the manufacturing and distribution of ladders, climbing equipment and ladder accessories under the Werner®, Green Bull®, Keller®, and other licensed brands. Werner also manufactures and sells a line of Fall Protection products and recently acquired Knaack LLC, the leading manufacturer of jobsite, truck and van storage equipment under the Knaack® and Weather Guard® brands. Backed by over 60 years of product innovation, Werner products are recognized for their durability, quality and safety. All Werner ladders and climbing equipment meet or exceed applicable Occupational Safety and Health Administration (OSHA) and American National Standards Institute (ANSI) codes and standards for strength and structural integrity. Werner is headquartered in Greenville, Pennsylvania. For more information, visit http://www.wernerco.com.
For more information, please contact Knaack LLC, 420 E. Terra Cotta Avenue, Crystal Lake, IL 60014. Toll Free Phone: 800-456-7865. Web: http://www.Knaack.com, http://www.WeatherGuard.com. For media inquiries, please contact Heather Hawes at heather(at)ModernMarketingPartners(dot)com.