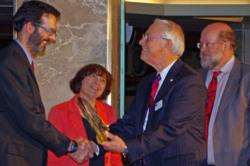 The annual SPIE Technology Achievement Award recognizes outstanding technical accomplishment in optics, electro-optics, photonic engineering, or imaging.
SYDNEY, Australia and BELLINGHAM, Washington, USA (PRWEB) December 13, 2012
World-leading expertise in optical fabrication, metrology and coating over more than three decades has earned high-level recognition for the CSIRO (Commonwealth Scientific and Industrial Research Organization) team from the Australian Center for Precision Optics. The team was presented with the 2012 SPIE Technology Achievement Award during a major international optics event in Sydney this week.
CSIRO's David Farrant and Svetlana Dligatch accepted the award from SPIE President Eustace Dereniak (College of Optical Sciences, University of Arizona) and SPIE President-Elect Bill Arnold (ASML US) at the Australian Institute of Physics Congress (AIPC). Held 9-13 December, the event incorporated the Australian Conference on Optical Fibre Technology and was associated with the Australian Optical Society Conference.
The annual SPIE Technology Achievement Award recognizes outstanding technical accomplishment in optics, electro-optics, photonic engineering, or imaging, and includes an honorarium of $2,000.
Along with Farrant and Dligatch, CSIRO team members are

Bob Oreb
Roger Netterfield
Achim Leistner
Jeff Seckold
Jan Burke
Katie Green
Mark Gross
Anatoli Chtanov
Philip Fairman
Edita Puhanic
Matthias Burger
Wayne Stuart
Ron Bulla
Terry Kinder
Neil Blenman
Khuen Wong.
In the closing session, Tomonori Hu of the University of Sydney was awarded the SPIE Student Prize for best paper, including a $1,250 travel grant for an SPIE conference, and Stephanie Crawford, University of Sydney, won the Wanda Henry Prize for best student presentation. Sam Legge (University of Newcastle) and Matthew Collins (University of Sydney) were recognized for Highly Commended papers.
Australian Optical Society President Ann Roberts (University of Melbourne) presented the 2012 W.H. (Beattie) Steel Medal to Barry Luther-Davies (Australian National University).
Arnold was among invited speakers at the congress, presenting a talk on "Progress in extreme ultraviolet lithography for IC manufacturing," in the session on Optics, Photonics and Lasers: Nanofabrication.
Participants in an AIPC industry workshop included welcome speaker Mary O'Cane (New South Wales Chief Scientist and Engineer), session chair Ben Eggleton (University of Sydney), and panelists Milton Chang (Incubic), John Harvey (University of Auckland), Simon Poole (Finisar Australia), and Jim Patrick (Cochlear).
SPIE CEO Eugene Arthurs also attended the congress, and visited the Swinburne University of Technology where he gave a talk on "Photonics: An Area of Promise in a More Difficult Era for Science."
SPIE is the international society for optics and photonics, a not-for-profit organization founded in 1955 to advance light-based technologies. The Society serves nearly 225,000 constituents from approximately 150 countries, offering conferences, continuing education, books, journals, and a digital library in support of interdisciplinary information exchange, professional growth, and patent precedent. SPIE provided over $2.7 million in support of education and outreach programs in 2011.