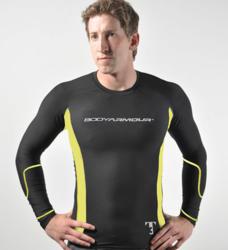 Vancouver, BC (PRWEB) December 18, 2012
Financial Press announces Garmatex Technologies' five-year licensing deal with BODYARMOUR® and BASE360™. You can't beat Kevlar® for personal protection, right? After all, it's what they use to make bulletproof vests for police officers. It even helped land a spacecraft on Mars. But can it keep you cool, dry and comfortable, as well as saving your life?- (Financial Press)
Now it can, because Garmatex Technologies, Inc. has taken the 30-year-old technology and transformed it into a revolutionary new fabric called Steelskin™ that both protects and comforts the body.
Garmatex, an innovative leader in the research and development of scientifically engineered, performance-inspired fabric technologies, recently announced an expansion of its operations across North America and the world.
This week, Chairman and Chief Executive Officer, Keith Gracey announced a five-year textile licensing agreement with Pro-Formance Insights R.A. Inc. (PFI), a company specializing in protection apparel, sold under the brand names BODYARMOUR® and BASE360™.
PFI will market apparel that incorporates several breakthrough technologies pioneered by Garmatex, including Steelskin™. PFI President, Rolf Loyens, says it was a "long process" to find a partner "that views performance and protection equally as importantly as we do."
Garmatex Chief Technical Officer, Doug Thom, takes that as a compliment. "Garmatex has created a process where we have been able to bond our proprietary Coolskin® microfiber fabric to Kevlar®," says Thom. "This creates a wickable, anti-cut material that can be used in protection apparel that safeguards against serious lacerations." "This is only the beginning. We are also in the process of developing several other materials that provide performance and anti-cut attributes under the Steelskin™ name," claims Thom.
Among the company's other innovations is the patented T3® shirt design, a unique triple gusset design for which Garmatex has secured global rights. Thom sums up the advantages of combining the T3® technology and Steelskin™ with BODYARMOUR's own patented placement of the anti-cut material, "It produces a freedom of movement in a quick-dry shirt or pant that can also save your life, or prevent serious injury, while keeping you cool and dry. This is truly an amazing breakthrough, the convergence of two superior technologies in one phenomenal product. Whether you're a hockey player trying to prevent skate cuts, or a police officer exposed to a dangerous situation, you now have the ultimate apparel for comfort, performance and protection."
Rolf Loyens, President of Pro-Formance Insights, said that pre-testing of the new BODYARMOUR® and BASE360™ product line, incorporating the various Garmatex technologies, has been "overwhelmingly positive." Loyens said he could foresee "multiple applications" for the new technology in hockey, ice sports, law enforcement, first/ emergency response, security, industrial and military. "If one takes into account the multiple applications for this technology, the potential for this segment of the apparel market can be in excess of $400 million," he said.
Indeed, statistics show that among police forces worldwide there is a growing demand for clothing to protect officers from lacerations from blades, bottles and other edged objects — even from biting.
BODYARMOUR® offers increased protection for the extremely sensitive tendons, arteries, veins and soft tissue in the vulnerable wrists and forearms of potential victims facing a knife attack. It has been approved for use by, among others, Correctional Services Canada.
It's not just police who benefit from proper protective clothing.
Other vulnerable groups include social workers, charity and aid workers and security staff — all of which can be exposed to sudden and random acts of violence from knife-wielding assailants.
Construction workers are another group that would benefit from protective clothing. A worker in the U.S. who slashed his wrist in September while cutting plastic sheeting severed an artery and was saved only by the quick action of a state trooper.
Crime files reveal that in many instances knives can be even more deadly threat than guns and sometimes harder to defend against. When a man went berserk with a knife in London, England, last year he managed to stab four police officers before being restrained.
FBI figures show edged weapons are involved in three percent of all armed attacks on police — only one percent fewer than firearm attacks.
Canadian police in Victoria, British Columbia, have reported a 35 percent increase in calls involving an edged weapon. In the same city in 1994, six out of seven murders were committed with knives.
The dangers exist not just in violent situations. Professional athletes — particularly hockey players — are prone to lacerating injuries that only extra protection can prevent. North American hockey fans are all too familiar with blood gushing onto the ice when players suffer slashing injuries caused by sharp-edged skates.
Commenting on the deal with PFI, Garmatex President, Darren Berezowski, said: "We are convinced that developing leading-edge technology and partnering with like-minded companies will ultimately transform the materials industry and help establish Garmatex as the leader for performance and fabric technologies."
About Garmatex Technologies, Inc.:
Garmatex's performance technologies and fabrics: Kottinu™, T3®, Bact-Out®, Coolskin®, Warmskin®, Coldskin™, Steelskin™, Satinu™, Slimskin™, Camoskin™ and Recoveryskin™ have proven to be superior to any like products available in the market for comfort, fit and performance and are engineered using our proprietary "Moisture System Transference" (MST™) process which provides unrivaled moisture management control. Garmatex's ground-breaking Kottinu™ fabric, with its amazing "cotton-like" comfort and feel, delivers unparalleled performance in moisture management, lasts 6 times longer than cotton, maintains color sharpness with minimal fade and is a viable alternative to cotton in any application where the inferior attributes of cotton have been considered "the standard". Our patented T3® triple-gusset shirt construction, which allows complete 360 degree mobility of the shoulder without restriction or shirt binding, is the first garment construction design patent granted in decades.
Forward-Looking Statement Disclaimer
Statements contained in this Press Release that are not historical facts are forward-looking statements, which are subject to a number of known and unknown risks, uncertainness and other factors that may cause the actual results to differ materially from those anticipated in our forward looking statements. Although we believe that the expectations in our forward looking statements are reasonable, actual results may vary, and we cannot guarantee future results, levels of activity, performance or achievements.
Legal Disclaimer/Disclosure: A fee has been paid for the production and distribution of this Report. This document is not and should not be construed as an offer to sell or the solicitation of an offer to purchase or subscribe for any investment. No information in this article should be construed as individualized investment advice. A licensed financial advisor should be consulted prior to making any investment decision. Financial Press makes no guarantee, representation or warranty and accepts no responsibility or liability as to its accuracy or completeness. Expressions of opinion are those of the author's only and are subject to change without notice. Financial Press assumes no warranty, liability or guarantee for the current relevance, correctness or completeness of any information provided within this article and will not be held liable for the consequence of reliance upon any opinion or statement contained herein or any omission. Furthermore, we assume no liability for any direct or indirect loss or damage or, in particular, for lost profit, which you may incur as a result of the use and existence of the information, provided within this article.