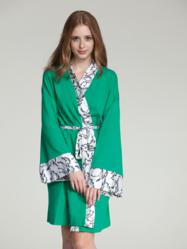 San Francisco, CA (PRWEB) December 14, 2012
Doie Lounge, a Los Angeles-based line of eco-friendly, locally made, luxurious bamboo robes, is currently featured in "Hollywood Unwrapped," a unique celebrity-chic selection of the hottest gifts for the 2012 holiday season. Playing online, in doctors' offices and airports nationwide, as well as various popular blogs, the video is hosted by well-known celebrity stylist Anya Sarre, who personally handpicked the extraordinary array of tasteful selections. This entertaining video gift guide also contains catchy celebrity interviews, as well as interviews with the gift designers.
Popular among A-list celebrities and deemed a "celebrity must-have" by Us Weekly magazine, Penelope Cruz, Madonna, and Olivia Wilde have professed their affinity for relaxing in Doie Lounge robes. These robes continue to be a big hit for Holiday gifts. According to Doie designer Sara Kirsner, the robes also have become immensely popular among brides as the ultimate bridesmaid gift. Brides world-wide are using these robes as a generous "thank you" gift for their nearest and dearest.
"In addition to being a practical choice for after the wedding, the robes glamorize the pre-wedding primping ritual, when some of the most memorable, candid photos of the day are taken," says Kirsner. "We're continuing to offer 15, 25 and 35 percent discounts to brides who buy in bulk."
Doie Lounge robes have been featured on several wedding websites such as Ruffled, Style Me Pretty, Grey Likes Weddings, Emmaline Bride, Survive Wedding Season, Inside Weddings, Snippet and Ink, and also non-bridal sites such as Us Weekly, Heidi Klum on aol, and Giuliana Rancic's FabFunFit. Elle Shapiro of Survive Wedding Season described the robes as a "smashing, can't-miss bridesmaid gift for ladies who love luxury."
Doie Lounge robes are made from earth-friendly fabrics that pamper the skin and are manufactured in Los Angeles, CA. The entire assortment is available online at: http://www.doielounge.com