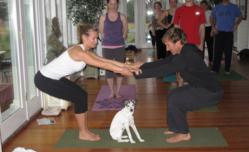 Gloucester, Va. (PRWEB) December 13, 2012
Nothing says that a weekend of exercise and healthy eating cannot be complemented with lavish accommodations and beautiful surroundings.
The Inn at Warner Hall is kicking off 2013 with its second annual Wellness Weekend, featuring yoga, rest, and self-awareness from Feb. 1 to 3.
Johnny and Ashley Stuhr, both experienced and registered yoga teachers, will lead all yoga classes.
Each morning will start with yoga on the River Porch overlooking the Severn River and each day will end with relaxing yin yoga by the fireplace.
All levels of yoga practitioners are welcome, from those who have never stepped foot into a yoga class to those who have practiced for years.
Warner Hall's Chef Eric M. Garcia's gourmet dinners will feature local, organic, and healthy options to meet the theme of the weekend.
The Wellness Weekend package is $199 per person, including tax and service. This includes all yoga classes and meals throughout the weekend. Lodging cost not included.
*Friday*
Guest Check-in: 2 pm
Hot Tea & Refreshments: 4 pm
Meditation & Intention Setting: 5-6:30 pm
Causal Buffet Dinner: 7:30 pm
Relax by the Fire
*Saturday*
Hatha/Vinyasa: Yoga 8-9:30 am
Breakfast: 9:30-10:30 am
Time for Relaxation, Reading, Massage, Power Smoothie / Snack Break: 12:30 pm
Yin Yoga / Yoga Nidra: 3-4:30 pm
Four Course Dinner: 6:30 pm
*Sunday*
Yin Yoga (partners): 8:30-10 am
Farewell Brunch: 10 am
Return to the Real World….Relaxed and Rejuvenated
ABOUT WARNER HALL:
Ideally situated at the head of the Severn River in Gloucester County, the manor house at Warner Hall stands on a neck of land occupied and built upon continually from the mid-17th century. The property is located three and a half miles from U.S. Route 17 and Colonial Williamsburg is 30 minutes away. The battlefields of Yorktown are within 15 minutes and America's first settlement, Jamestown, is a 50 minute drive along the scenic Colonial Parkway. The state capitol of Richmond, the Norfolk Harbor, and Virginia Beach are within an hour's drive.
ABOUT THE YOGA TEACHERS:
Ashley Stuhr, a former dancer, found yoga six years ago during a stressful semester in college. Just after graduation, she decided to take a leap of faith and enrolled in a 200-hour teacher training at Yandara Yoga Institute in Baja, Mexico. She quickly developed more versatility within her style of teaching, including vinyasa flow, bikram asana, yin and restorative yoga. Ashley also received her prenatal yoga teaching certification and her 200 hour experienced yoga teacher recognition from Yoga Alliance. She most recently completed her 500 hour teacher training with Dharma Mittra at his NYC Center. Ashley wants all students to feel welcome, comfortably challenged, and open to the positive aspects yoga can bring to their own life.
Johnny Stuhr has been actively studying and practicing yoga since 2000. His interest for yoga developed merely to find relief from the nagging aches and pains of living in a body. However, after several years of a physical practice, the agitation within his body had quieted enough to allow him to investigate the spirituality behind yoga. In 2007, he ventured to the Nosara Yoga Institute (NYI) to receive his 200-hour teacher's certificate, and tapped into the dormant creative potential of his own organism. Since then, he's completed his 500-hour certification also through NYI and plans on completing his 1000-hour trainings. This practice has given him the ability to understand himself as a multidimensional being which brings him back to the natural state of existence, which is something he hopes all students find in his classes.