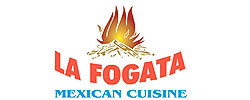 San Antonio, TX (PRWEB) December 17, 2012
La Fogata, a restaurant that serves traditional, authentic Mexican food in San Antonio, recently announced that it is featuring Sauza Hornitos as the featured Tequila of the Month for the month of December 2012. They also invite guests to try their new drinks that are made with Liquor 43 or Rumchata.
Sauza Hornitos is an 100% de agave Tequila, which is rested four to six months in large oak vats. Hornitos Reposado takes on a smooth, mature character that delivers the purest agave flavor, combined with the flavors of black pepper, citrus and caramel. The initial heat of Hornitos Reposado leaves a complex and perfectly balanced warm, mellow finish. Hornitos is distilled entirely from mature blue agave at the Sauza La Perseverancia Distillery in Jalisco, Mexico and is the best selling Tequila in Mexico.
"Come celebrate the holidays La Fogata style! Check our Christmas lights and the snow fall lights on our beautiful patio. The view is spectacular," said David Dominguez, General Manager of La Fogata. "We invite you to try our Tequila of the Month. And for the sweet lovers, have a slice of Dulce de Leche Cheesecake!"
La Fogata will be closed on December 24th and 25th, but will reopen for business on December 26th. During the entire holiday season, La Fogata offers full service catering for holiday parties and special events. For more information about catering services, call La Fogata's professional catering team at (210) 340-1337.
For complete information about La Fogata cuisine and services, visit their website at http://www.lafogatatx.com. For restaurant news, customer reviews, and photos of the food, staff and restaurant, visit La Fogata's Facebook page at http://www.facebook.com/lafogata.
About the company:
La Fogata brings San Antonio and all surrounding areas the traditional flavors of Mexican Restaurant cuisine with old world recipes handed down generation to generation. La Fogata is a great place to stop in for lunch or dinner, for catering, and even for throwing a party in one of their party rooms. they offer only the highest quality Mexican cuisine in a lively, upbeat atmosphere to give their patrons an exceptional dining experience time and time again. For more information visit their website at http://lafogatatx.com.