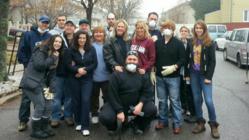 Staten Island, NY (PRWEB) December 14, 2012
Last weekend, Deirdre Imus, the President and Founder of the Deirdre Imus Environmental Health Center, volunteered with Operation Shove it Sandy, a grassroots organization founded three days after Hurricane Sandy ransacked parts of Staten Island.
Operation Shove It Sandy was started by Staten Island native Nat Candido, the stage manager for the "Imus in the Morning" program on the Fox Business Network. For the last six weeks, Nat and his team have been working tirelessly to help Staten Island residents repair their flooded homes, distribute supplies, and regain some semblance of the lives they had before.
Along with her son Wyatt and friend and Fox News contributor Lis Wiehl, Deirdre went door-to-door with Operation Shove it Sandy, helping people tear down walls in their flood-ravaged homes, offering them a shoulder to cry on, and handing out kits full of her Greening the Cleaning product line. The smell of mold and other contaminants permeates Staten Island's air, inside and outside of homes. The best way for residents to protect themselves from inhaling carcinogens is to clean with all-natural, non-toxic products like the Greening the Cleaning All-Purpose Cleaner, which is made from naturally derived substances and won't irritate the lungs.
Staten Islanders are suffering, but they are strong. With your help, they'll make it through this terrible time. For more information on Operation Shove it Sandy and to donate supplies, money, or your time, please visit their website: http://www.facebook.com/operationshoveitsandy