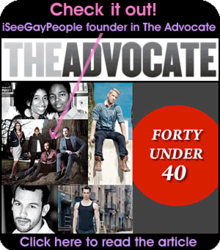 "I see Gay People.tv has the potential to be the cool go-to site for LGBT web programming and a win-win for audiences and creators."
Susan Miller, Executive Producer/Writer Anyone But Me
New York, New York (PRWEB) December 17, 2012
ISeeGayPeople.tv, the online presenter of independent LGBT web series and films, this week announced a campaign to raise $40,000 on Indiegogo.com. The campaign will run through January 31, 2013.
The site's founder, Toyce Francis, said that proceeds from the campaign will finance upgrades to the site to increase functional capabilities, traffic and revenue sharing opportunities for independent artists and producers.
Mr. Francis, who was included in The Advocate magazine's annual round up of 40 Under 40 people to watch, (June 2012) feels strongly that online entertainment is the most accessible and promising path for independent producers and creators of LGBT projects and audiences alike. "LGBT entertainment media is evolving. As a recently published http://www.glaad.org/releases/glaad-study-records-highest-percentage-ever-lgbt-series-regulars-broadcast-television-cable [GLAAD study
revealed, there are more gay characters on mainstream broadcast and cable shows than ever before. Also, online players Hulu and NetFlix have increased LGBT content."
Mr. Francis continues, "This creates real need and opportunity for truly independent LGBT entertainment online platforms. With our revenue sharing and monetization tools, ISeeGayPeople.tv has the potential to help develop the next generation of material and audiences."
Launched in June 2012, iSeeGayPeople.tv features independent web series and films. The site is LGBT owned and independently operated. It features such popular web shows as Anyone But Me, Hustling, Drama Queenz and The Real Girl's Guide to Everything Else.