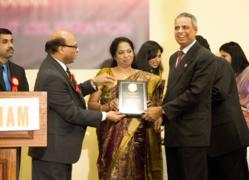 Ayurveda, Knowledge of Life and Longevity
Edison , NJ (PRWEB) December 14, 2012
Dr. Ambika Nair, the co-founder and Chief Consultant of Santhigram Ayurvedic company received the 2012 "NAMAM Award." Dr. Nair is a renowned Holistic medicine practitioner with over 25 years experience. She specializes in Ayurveda, Alternative medicine, Holistic therapies, to treat a number of chronic conditions which otherwise have limited side-effect-free therapeutic options in conventional system of medicine.
Dr. Nair holds graduate and post-graduate degrees and a number of diplomas in various fields of Holistic Medicine including Ayurveda, Homeopathy, Bach Flower Remedies, Siddha, Naturopathy and Yoga. She is a certified Holistic Practitioner in the United States. She is also a spiritual healer and a disciple of His Holiness Navajyothi Shri Karunakara Guru of Santhigiri Ashram, Trivandrum, Kerala, India. She has previously won many awards, including "Pride of the Country" award by Society of Industry and Business achievements, New Delhi, "Women of the Year 2012-13 Award" from National Association of Professional Women (NAPW), USA and has served as the physician to the former President of India, Dr. K.R. Narayanan.
NAMAM is a well known social organization in the US, particularly in the tri-state area and it reaches out to the community through its various cultural and outreach activities and is headed by its President Mr. Madhavan Nair. Speaking at the occasion Dr. Nair noted that the award has special significance in her life, for it honors Ayurveda in the USA. And she felt humbled to receive the recognition on behalf Ayurveda, Ayurvedic practitioners and the supporters of Ayurveda." Speaking at the occasion Assemblyman and Dy. Speaker of New Jersey Assembly Mr. Upendra Chivukula lauded the services rendered by Dr. Nair to the society.
Dr. Nair's commitment to promote holistic therapies worldwide has been the inspiration behind Santhigram Ayurvedic Company launch its operations internationally, after its successful operations in India for over a decade. The company originally expanded operations to UK, seven years back, by launching two Centers in London. The success story of the UK Centers, encouraged Santhigram group to launch its Ayurveda Wellness business in the United States. As of today the company has established five Ayurvedic Centers in the United States, 3 in New Jersey, 1 in New York and 1 in Houston, Texas. In the first quarter of 2013 the company is launching its first wellness center in Chicago, IL and an additional center in Queens, NY.
Ayurveda, the knowledge of life and longevity, is the oldest, most comprehensive scientific discipline, a comprehensive health care system that was preached, practiced and documented in the ancient times by omniscient sages. This knowledge was revealed to them in their spiritual pursuits. Closely associated with the Indian philosophy, the origin of this system can be traced to the "Vedas" ( 1200 BC ), one of the earliest discovered codified scriptures which deals with all aspects of the universe. The basic philosophy of Ayurveda is to make people aware of their life style, diet, exercise and mental activities to achieve a perfect balance in mind, body and the soul. Literally, it focuses on uninterrupted physical, mental and spiritual happiness and fulfillment. So, Ayurveda focuses on absolute perfect health and not disease. On the other hand, the modern medicine stresses only on the body and neglects the mind, senses and the soul. Any infirmity in the mind, senses and soul leads to illness in the Ayurvedic definition. Ayurvedic Panchakarma Therapy has methods to remove toxins from body and rejuvenate the body and mind. These procedures improve the physical and mental activity measurably. While modern medicine prescribes medicines which focus on maladies, Ayurveda focuses its main attention on holistic health, its insistence on keeping the mind and spirit strong by orbiting the inherent vital strength with herbal remedies and natural invigorating methods.
Dr. Nair has enriched the practice of Ayurveda with her exceptional clinical skills and untiring commitment to her patients. Recognition by NAMAM for her outstanding contribution to society, only reinforces her commitment to promote the vision of Santhigram group, "to propagate the goodness of Ayurveda worldwide."
Santhigram Ayurvedic Company is an ISO certified provider of Ayurvedic services worldwide and specializes in "Kerala specific Ayurvedic Panchakarma Therapies."