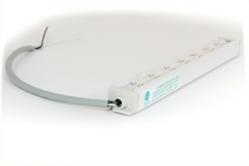 Chicago, IL (PRWEB) December 14, 2012
Go Green LED Bulbs, online LED light bulb retailer, has recently added LED exit sign retrofit kits to its product line. The retrofit kits allow buildings to keep their existing exit signs, but convert them to operate as a light emitting diode (LED) technology. LED Exit Signs provide a number of benefits including reduced energy consumption and lower maintenance.
Like LED light bulbs, LED exit signs consume a significantly lower amount of energy than traditional exit signs. Since exit signs are required to operate constantly, their electricity costs can add up. Because LED exit signs use a fraction of the energy, they decrease those electricity costs. Also, as a result of lower energy consumption, LEDs contain a longer lamp life than traditional lights. An increased lamp life allows for reduced maintenance procedures, as well as costs. According to the North Carolina Department of Commerce, replacing incandescent exit signs with LED exit signs saves money in the first year alone, and can save an estimated $581 over the course of ten years. Fluorescent exit signs only save $269 more than incandescent over the course of ten years.
Go Green LED Bulbs now provides LED Exit Sign Retrofit Kits that connect to existing exit signs. They convert the current exit sign to LED once placed in and connected to the exit sign. The Retrofit Kits come in red or green, of which both colors are code compliant, the color choice is simply up to the consumer. Each color retrofit kit comes in a 120 Volt option, or 227 Volt. The kits are American made and the red ones come with a ten year warranty from the manufacturer, and the green ones with a six year warranty. They consume less than two watts of energy, in comparison to 30 to 40 watts used by incandescent exit signs. When the object operates for 24 hours a day, seven days a week, the wattage used is extremely important.
Go Green LED Bulbs' also provides a complete LED Exit Sign that emits red light. The exit sign contains an injection-molded thermoplastic ABS frame and a UL94V-0 flame rating. It is operated by a durable nickel-cadmium battery. After 90 minutes of discharge the exit sign has a 24 hour recharge, and prevents deep discharge damage to the battery. LED exit signs provide a brighter, more uniform light than incandescent exit signs, which is ideal in emergency situations. Individuals within the building will be able to spot LED exit signs, even through layers of smoke.
ABOUT GO GREEN LED BULBS
Go Green LED Bulbs is a leading distributor of energy efficient products including LED light bulbs, exit signs, LED Christmas lights, flashlights and more. Located in Round Lake Beach, IL, Go Green LED Bulbs works hard to inform the consumer so they can make the best decision on what LED lighting products are right for their residential or commercial space.