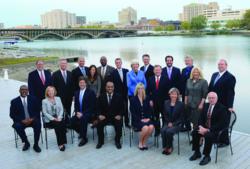 A community is what shapes a person
Rockford, IL (PRWEB) December 14, 2012
Mr. Peter Provenzano, President & CEO of SupplyCore was presented with the Rockford Chamber of Commerce 2012 Twenty People You Should Know Award. This award shines a spotlight on talented individuals who call the Rockford region home. Awardees have all given their time, talent, and leadership to the Rockford region, while also mentoring future leaders in the community.
Provenzano was nominated for his passion to improve his local community and the success of his company SupplyCore, celebrating its 25th anniversary. Provenzano believes "A community is what shapes a person", and he feels a sense of responsibility to his hometown where SupplyCore is headquartered.
His favorite quote from Louis Pasteur, "Chance favors only the prepared mind," is a testament to his business discipline and passion for community that are at the backbone of this award. Full Interactive Publication: http://issuu.com/rockfordchamber/docs/one_nov_2012
About SupplyCore
SupplyCore is a highly adaptable, integrated logistics solutions company, providing key support services to US and foreign agencies in at-risk environments. Through our international offices and partners, our expertise includes: Supply chain management, procurement, warehousing and logistics services, facilities maintenance and management, base operations and support, vehicle and aircraft after-market parts, service and recapitalization, and contingency operations.