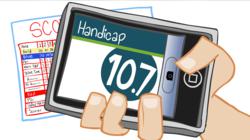 The best free golf handicap tracker. Period.
Miami, FL (PRWEB) December 17, 2012
The launch of this new welcome page goes hand in hand with the new TheGrint demo video which shows all the benefits of this free golf handicap tracker. The new welcome page is cleaner and it is designed to focus the attention of the visitor on the benefits of this free golf handicap tool. This should result in a more powerful message that should result in more converted registrations to the site.
The company is trying to reach new heights by attracting a lot more golfers to use their free golf handicap services. For that they believed it was time to redesign the first contact with the golfer which is the Welcome page. All of the initial effort has been in making the most complete free golf handicap community in the industry.
During this process of redesign there was also a lot of analysis behind trying to understand all the troubles that the regular golfer goes through when trying to track their golf handicap through any of the existing golf handicap calculators. And the messaging and the video try to reflect how TheGrint can solve all those barriers and provide the golfer with a easy to use free golf handicap tool.
In the video, the story begins by showing how private club members calculate a golf handicap hassle free by introducing their scorecard at the end of their round on a small box. Afterwards employees of the club will enter the scores for them. The video then shows how TheGrint brings the same solution to the normal golfer who otherwise would have to go through all the troubles involved with tracking a golf handicap.
Write us an email to contactus(at)thegrint(dot)com to learn more about TheGrint or to request an interview