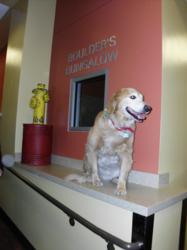 We were incredibly touched by this thoughtful gesture and are very happy for our friends at Great Plains SPCA on the opening of this amazing facility.
Kansas City, MO (PRWEB) December 14, 2012
As part of Great Plains SPCA opening their new Pet Adoption Center, they surprised Meers Advertising at a preview event on December 12, with a special thank you for the recent work the agency has created and produced for the animal shelter and veterinary care center. A suite and/or playroom designed for one or more dogs (e.g., a place where a mother dog and her puppies could be together) was named "Boulder's Bungalow" in honor of the agency's beloved canine staff member, Boulder Meers.
The agency launched a spay and neuter campaign in October of this year, and a new pet adoption campaign recently commenced – both campaigns consist of print, TV commercials and guerrilla marketing tactics. "Great Plains is very grateful to Meers Advertising for generously donating time and talent for this incredible creative work as well as all of the strategic planning, market research, media planning and buying that has supported it," said Courtney Thomas, President & CEO of Great Plains SPCA. "This is just a small way of our organization saying thanks to the Meers team."
Known for her alert office protection and unwavering staff affection, Boulder is particularly adept at charming clients and maintaining a harmonious workplace atmosphere at Meers Advertising. Though she can't wear hats (without some assistance), Boulder is able to simultaneously juggle and serve multiple functions – including human resources, custodial and therapy. She is a five year-old Golden Retriever, loves to play with her toys at home and work, and is fond of all kinds of treats. Boulder is owned by the agency's President/CEO, Sam Meers, and his wife, Julie Nelson-Meers, and attended the preview opening of the Pet Adoption Center along with Sam, Julie and several Meers' team members.
"We couldn't have been more surprised and honored with this recognition via Boulder for the work the Meers team has done for Great Plains SPCA," said Sam Meers. "We were incredibly touched by this thoughtful gesture and are very happy for our friends at Great Plains SPCA on the opening of this amazing facility."
Great Plains SPCA's new state-of-the-art Pet Adoption Center is located at 5424 Antioch Drive, Merriam, KS – right next to their Veterinary Care Center. It features:

Cage-free living quarters
Indoor and outdoor play areas
Natural sunlight throughout the shelter
Feline sun rooms
10,000 square feet which provides considerable more space for saving lives
MetroPAWlitan Pet Supply retail store
Volunteer Center
About Meers:
Founded in 1993, Meers is a national full-service digital marketing and advertising agency headquartered in Kansas City, Missouri. The agency works to advance clients' businesses by helping them solve marketing challenges through relevant, engaging and compelling communications. Meers works with Missouri Gas Energy, Virtuous Living Seasonings, Kauffman Center for the Performing Arts, several Blue Cross and Blue Shield plans, and others. For the second consecutive year, Meers was named as the fastest growing Kansas City private company in 2012 by Inc. Magazine's "Inc. 5000." In July 2012, Meers was recognized as "Kansas City's Top Company" by KC Business Magazine. Meers is a member of the 4As. For more information about Meers Advertising, please visit http://www.meers.com. Follow/find us on Twitter at @meerskc.
About Great Plains SPCA:
Great Plains SPCA is the Kansas City Metro's most comprehensive resource for pets and their human companions, serving more than 22,000 pets annually - more than any other animal welfare agency in the area. Great Plains SPCA, a No Kill shelter, works to save, protect and improve the lives of animals, while strengthening the relationship between pets and their human companions by providing humane sheltering, adoptions, and affordable spay/neuter and veterinary wellness services. Great Plains SPCA is a 501(c)(3) non-profit organization. For more information, please visit http://www.GreatPlainsSPCA.org.