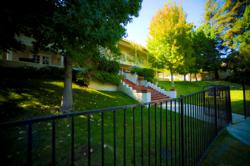 Our center is luxurious, but patients don't come here to take a vacation – they come here for personal growth
Malibu, CA (PRWEB) December 18, 2012
Medical experts at Malibu-based Prominence Treatment Center have developed an unconventional approach to treating substance abuse. The facility's innovative approach marks a transition to luxury rehab from impersonal hospital environments and one-size-fits-all 12-step programs.
"Typical cookie cutter programs aren't for everyone," said the Center's CEO John Navab. "We understand that life-changing experiences depend on individualized experiences. Our goal is to educate and enhance the lives of people who walk through our doors."
The ultimate goal is to help patients manage the recovery process as a part of their daily lives.
http://www.ProminenceTreatment.com
"Through a careful assessment process, we develop a comprehensive and unique treatment experience," Navab said. "We understand that the recovery process involves a complex emotional journey. We help patients manage their emotions and develop alternative coping methods through individualized relapse prevention plans. People need more than just medical care, therapy, and structure. They need a state of the art treatment center to recharge, feel motivated, and experience personal growth in a private and confidential setting. Our center is luxurious, but patients don't come here to take a vacation – they come here for personal growth."
The company's vision and methodology are grounded within a blend of psychological principles.
"Prominence uses Smart Recovery analysis, which you can think of as a type of cost-benefit analysis," Navab said. "There is also a focus on Cognitive Behavioral Therapy (CBT). We're always seeking out the most innovative and comprehensive techniques to keep our community healthy and happy."
It's this holistic approach that is essential to patient recovery, explains Navab.
"It is important that patients understand the tradeoffs of their substance abuse," said Navab. "What have been the benefits of your experiences, and what has your dependency cost you? Understanding why your behavior is problematic can help an individual become motivated for change. It is crucial to take an honest look at the advantages and disadvantages of your substance abuse in order to prepare for change. It's crucial to understand that there a beautiful side to life that extends beyond the stressors that fuel addiction. Our non 12-step program can really teach you that."
A core component of Prominence's treatment plan is patient empowerment. Relapse is a common occurrence, and in order to prevent it, patients need to be equipped with the tools to stay strong. Prominence's non 12-step program is integral to that objective.
"We give patients a relapse prevention plan that you can take and use for the rest of your life," Navab said. "You will receive individual therapy and chemical dependency counseling along with group discussion. Treatment plans include supervised and medication assisted detox, psychiatric evaluations, family therapy, and community resource introduction. We understand that sobriety is for the long term, and we aim to help patients find passion for something beyond alcohol and drugs."
Prominence aims to defy stereotypes of substance abuse. Patients come from a variety of life situations and backgrounds. They may not fit the persona of an 'addict' or 'substance abuser.'
"People refuse treatment because they think they're not 'bad' enough," Navab said. "Drug and alcohol abusers don't need to hit rock bottom before seeking help. Whether or not you realize it, your rock bottom could be death. You do not have to be a full-blown addict to die from binge drinking and drug overdoses. You're just like everybody else."
If you or a loved one needs help, contact one of our Intake Specialists at Prominence Treatment Center by calling (888) 394-2558.