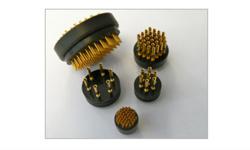 Our ability to process high temperature Thermoplastic and Thermoset Composite materials, together with Insert Molding has been a key to our strategy and growth
Lancaster, Ma (PRWEB) December 20, 2012
Reliance Engineering, Built-Rite Tool and Die and LSR Engineering , an integrated plastic technology company, has announced several expansion plans. Built Rite Tool and Die has just completed a 7500 square foot addition dedicated to secondary machining of plastic parts and product assembly. Reliance Engineering and LSR Engineering have started a 5,000 square foot addition for a white room molding facility. This expansion will support the growing LIM (liquid injection molding) of silicone rubber at LSR as well as supporting robust growth for the Reliance Engineering Division's medical business. In addition, the company is experiencing significant growth in Compression Molding of Thermosetting plastics.
Reliance Engineering, Built-Rite Tool Die and LSR Engineering are an integrated plastics technology company with expertise in plastic part design, mold design, mold making, and plastic processing. The 5,000 square foot addition should be completed in May of 2013 which will increase the efficiency and workflow of the molding operation. The company also completed a 10,000 square foot addition in 2009.
"By offering niche services and focusing on our core capabilities we are experiencing 20% growth on an annual basis. This growth has been supported by recent purchase orders for a large Compression Molding project. This new business which involves three large Compression Molded parts has prompted the purchase of a new HAAS VF4, CNC Milling Machine, a 250 ton Compression Molding Machine and a new CNC lathe. The HAAS will be used to machine the Compression Molded parts after molding," according to Company President Craig Bovaird. "After a record year in sales and profits in 2012, we will continue to invest in our ability to produce high precision molded parts for the medical and aerospace markets," Bovaird said. "Our ability to process high temperature Thermoplastic and Thermoset Composite materials, together with Insert Molding has been a key to our strategy and growth," Bovaird said. "We have been working with Mass Development and The Small Business Development Center at Clark University and expect to add another 8 to 10 high paying manufacturing jobs in the next few years. These investments will continue to fuel our growth as the size and diversity of our customer base expands. We continue to see strong demand in the medical, military and defense markets," Bovaird said.
About Built Rite
Built-Rite Tool & Die is a Custom Mold Making and Design firm. Built-Rite is the corporate parent and driving force behind Reliance Engineering and the LSR Engineering Divisions. Founded in 1984 Built-Rite is a leader in the manufacturing of precision molds for the LIM process, Liquid Injection Molding, Injection Molding, Thermoset Compression and Transfer Molding.
About Reliance Engineering
Reliance Engineering is a specialized custom molder of Thermoplastic and Thermoset plastic materials. Reliance focuses on demanding applications that require high temperature plastic materials and very close tolerance molding. Reliance Engineering is unique in offering both Thermoplastic and Thermoset molding capabilities coupled with Insert Molding.
About LSR Engineering
LSR Engineering is a specialized custom molder of Liquid Silicone Rubber. LSR Engineering focuses on demanding applications that require the unique properties of Liquid Silicone Rubber. LSR is a proprietary name for a range of two-component Liquid Silicone Rubbers used to produce elastomer parts via injection molding. LSR Engineering works with precision molds for applications requiring high cavitation, Insert Molding/Over Molding of plastic and metal parts and low cavitation/prototype parts
For more information visit http://www.builtrite-reliance.com