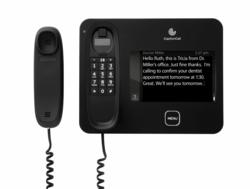 Helping people with hearing loss use the phone again with confidence!
Hyannis, MA (PRWEB) December 27, 2012
Dr. Theresa Cullen and Cape Cod Hearing Center are pleased to announce CaptionCall, a revolutionary new telephone for anyone with hearing loss who has trouble hearing on the phone. Similar to captioned television, CaptionCall uses voice recognition technology to quickly provide written captions of what callers say on a large, easy-to-read screen.
This partnership enables our patients to get the phones free of charge. Simply call Cape Cod Hearing Center at (508) 775-0959. Once we submit your order, CaptionCall will contact you, usually within a week, to answer any questions and to schedule your CaptionCall installation. CaptionCall will deliver and install the phone for free.