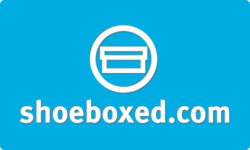 Shoeboxed's Second Annual Messy Desk Contest ended with an astounding 25,500 repins.
Durham, NC (PRWEB) December 14, 2012
With a brand new iPad Mini up for grabs, last week shoeboxed.com launched its Second Annual Messy Desk Contest.
The contest, which aimed to find the person with the messiest desk, was free and open to the public. After participants submitted a picture of their messy desk, the finalists were posted in Shoeboxed's Official Messy Desk Gallery. The public was then asked to vote for their favorite messy desk by repinning the image on their own Pinterest boards. The desk with the most repins won a free iPad Mini, courtesy of Shoeboxed.
After a competitive week of over 300 submissions, 208 finalists were chosen by the Shoeboxed team and posted for voting. While the official rules stated that a single winner with the messiest desk would be selected to win, a heated battle for first place resulted in Shoeboxed awarding an iPad Mini to the top two entrants. The winner, Adam Jackman, carried the voting with an extraordinary 13,796 repins. Lauren Martini, the runner-up, finished with an impressive 7,964 repins. In total, The Second Annual Messy Desk Contest ended with an astounding 25,500 repins.
Both Lauren and Adam will not only receive a brand new iPad Mini, but will also now be able to enjoy the Shoeboxed Receipt Tracker for iPad. Shoeboxed's free iPad app is one of the many ways Shoeboxed users can keep their desks organized, and the Shoeboxed team trusts that both Lauren and Adam will do just that with their new iPad Minis.
Shoeboxed would like to congratulate both Lauren and Adam on winning the Messy Desk Contest and extend a sincere thank you to all participants and voters.
About Shoeboxed
Since 2007 Shoeboxed has been the preferred small business expense tracking solution for over 500,000 users worldwide. The pioneers of cloud-based receipt scanning, Shoeboxed saves small business owners time, money and hassle by turning receipts into an organized, categorized, IRS-accepted archive of secure data.
Shoeboxed offers a fully functional free plan, as well as premium plans that include a prepaid mail-in service for physical receipts. Shoeboxed also accepts receipts via their free smartphone apps, through their free desktop uploader, or at receipts (at) shoeboxed (dot) com. Shoeboxed is based in Durham, North Carolina, and has growing offices in both San Francisco, California, and Sydney, Australia.
To learn more, please visit https://www.shoeboxed.com today.