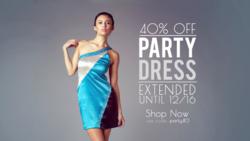 So SOIE Shop thought of offering shoppers 35% off storewide and 40% off on all party dresses.
Los Angeles, California (PRWEB) December 14, 2012
Santa Claus is about to land on the roof of every family's house this Christmas. But every fashionista wants to be well-dressed before he gets there. Why? The holiday season is the ideal time to dress to the nines for office Christmas parties, holiday socials and a special romantic yuletide getaway. So SOIE Shop thought of offering shoppers 35% off storewide and 40% off on all party dresses. What can be better than that for pre-Christmas shopping?
What's more, shoppers will certainly not be getting the short end of the stick for this discount shopping online sortie. Notice how some stores offer big discounts for fashion items and party dresses that they actually want to get rid of because they are items that have been passed over for better items. Shoppers won't want to be getting non-quality items at a discount. The whole point to a sale is purchasing quality items at affordable prices. For fashionistas, the beauty of a sale is finding that absolutely perfect dress at 40% off!
And who would want to pass over what's on sale at SOIE Shop?
SOIE Shop has dresses with embellished collars perfect for the holidays. After all, people need a little bit of gleam to be in a more festive mood. And when that faint gleam is in an embellished collar, it lends a Christmas glow to a face. Click on a dress that will have a solid color and seamless shape lit up by a discreet collar with the shine of delicate sequins.
SOIE Shop knows how to use a blend of simplicity, exquisite tailoring and delicate details to create outfits for any occasion. Discreet shine finds itself in sequined skirts. When matched with sheer chiffon blouses the interplay of light and gauzy creates an interesting festive dimension to the outfit. This sheer and gleam combination will be suitable for early Christmas dinners and tea with the girlfriends.
When we talk of colors and shades, SOIE Shop has an array of party dresses with jewel colors, nudes, golds, beiges, and black and white combinations. If you're feeling festive, you can pull out something in royal blue to stand out in a sea of black. Or you can wriggle into a matte gold skirt for a dash of shine. Your ever dependable black and white is always available at SOIE Shop. That fashion blend is a staple in every woman's wardrobe and SOIE Shop always has versions of it in every season's fashion collection.
Start clicking at SOIE Shop for limited time deals!