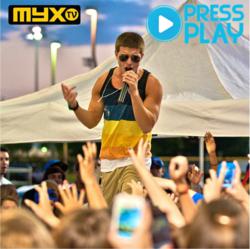 Each time I write a new song, I find inspiration somewhere new.
Redwood City, CA (PRWEB) December 14, 2012
Myx TV brought you Legaci before they toured the world with Justin Bieber. And there was Jessica Sanchez before she soared to the highly contended finals of American Idol. The network also introduced you to Far East Movement before their chart-topping single, "Like a G6." Consistently and on target, Asian American network Myx TV sets its inerrant eye on the industry's next big star. This week, hip hop pop artist Jake Miller's newfound stage is on the network's hit show, Press Play. In the forefront of showcasing the best of independent music artists around the United States, Myx TV is first to broadcast dozens of their music and videos. An all-new episode of Press Play airs tonight, December 14th at 9pm/8 central.
Sitting in a 9th grade sitting class in Weston, Florida was more than a formative exercise and creative outlet for Jake Miller. Poetry very quickly turned into verse, and verse into song with a little help from GarageBand – software that puts over 100 instruments at your fingertips which can potentially turn an experimentalist into a legend. Self-taught on the guitar, Jake picked up on songwriting very quickly and created himself into an overnight hip hop pop stunner.
While YouTube continues to be a repository for some of the best original music created by a new generation of artists, it isn't every day that one gets picked up by the stellar management behind Jason Derulo. Jake's cover of "Whistle" received millions of views and while millions have already discovered this diamond in the rough, his superstardom is just around the corner.
He's shared the stage with legends. "I've been extremely lucky to share the stage with some of my childhood musical heroes," said Jake Miller. "From Asher Roth to Mac Miller – being able to perform on the same stage with the artists I listen to is still so surreal." But a standout experience was a solo show in his hometown, at his old high school, around familiar faces and relived childhood memories.
Jake belongs to a musical family of dancers, musicians, and vocalists. Tonight, he stands on his own with a broadcast television performance reaching 10 million households, and the on-air debut of his single, "I'm Alright."
"Each time I write a new song, I find inspiration somewhere new. Depending on what's weighing heaviest on my mind at that moment, that's what I write about," he quipped. Every single has been nothing short of hard-hitting.
Jake Miller goes on his first nationwide tour – The Miller High Life Tour – in 2013, hitting major cities in Texas, Minneapolis, Iowa, Pennsylvania, Florida, Ohio, and New York.
Set out to spread his music, tonight on TV and next year, around the country, Miller says that he will return to Myx TV.
Also, catch original music videos by Miami hip hop artist Vers, Kathleen Nguyen of Houston, internet celebrity AJ Rafael, Jane Lui, and Seattle favorite New Heights on the sixth episode of Press Play on Myx TV - where you decide who gets played! For exclusive behind the scenes clips and local cable listings in the city where you live, visit http://www.myx.tv.
##
ABOUT Myx TV®:
Myx TV is the fastest-growing Asian American entertainment and lifestyle cable network in the United States. Dedicated to airing the best in entertainment, Myx TV's programming is a unique combination of original and syndicated shows, including reality, live music performances, animation, and independent film and Asian cinema, airing 24/7 in English. Broadcast in over 10 million households across the country it provides a platform for Asian Americans on mainstream television and is also represented on its official website by a community of bloggers from coast-to-coast. To find Myx TV in your area and for exclusive content online, visit http://www.myx.tv.