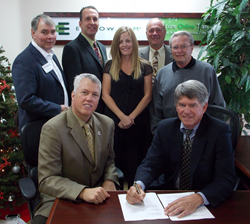 Orange County, CA (PRWEB) December 14, 2012
Escrow.com and the U.S. Commercial Service of the U.S. Department of Commerce's International Trade Administration signed yesterday a Memorandum of Understanding (MOU) to increase awareness in the U.S. business community, particularly among small and medium-sized businesses, about exporting and the tools and resources our organizations provide to help them succeed.
"We're pleased to welcome Escrow.com as a partner in our efforts to strengthen the U.S. economy and support local jobs through expanding U.S. exports," said Under Secretary of Commerce for International Trade Francisco Sánchez. "With more than 95 percent of potential customers living outside U.S. borders, it's imperative that American companies of all sizes consider the benefits of selling their products abroad."
"This partnership is important to us as we continue to focus on the export market," says Andrew K. Sokol, Escrow.com GM of Emerging Markets. "From what we've seen, payment options for exporters have been the same for many years and we envision seeing a growth in volume by those exporters who adopt our service as a new payment option for importers." Brandon Abbey, Escrow.com President and Managing Director, adds "We continue to see value in working with the various U.S. agencies focused on increasing our country's export volume. The ITA team has been extremely supportive and we see this as being a viable part of our business from here on out."
Under the MOU, the Escrow.com and U.S. Commercial Service's network of worldwide offices will work together on marketing, education programs and events leveraging both entities' expertise to help make U.S. businesses—and particularly small and medium-sized firms—more export savvy. Joint activities may include building awareness through outreach at trade shows, direct mail campaigns and online registration for resource support.
In 2010, President Obama announced the National Export Initiative (NEI) with the goal of doubling U.S. exports by the end of 2014. The partnership supports this goal by educating U.S. exporters, particularly small- and medium-sized companies, about the benefits exporting and expanding their exports to additional markets, and the public and private sector resources to assist them. Escrow.com joins several of the U.S. Commercial Service's Strategic Partners who have connected more than 1,500 companies to federal export assistance.
About Escrow.com
Headquartered in Rancho Santa Margarita, CA, Escrow.com, a privately held company, has pioneered the process of online escrow services. The Company, founded in 1999 by Fidelity National Financial, has established itself as the leading provider of secure business and consumer transaction management on the Internet. All escrow services offered on this Website are provided independently and exclusively by Internet Escrow Services(SM) (IES), one of the operating subsidiaries of Escrow.com. IES is fully licensed and accredited as an escrow company and is subject to compliance with all applicable nationwide escrow regulations.
About U.S. Commercial Service
The U.S. Commercial Service is the trade promotion arm of the U.S. Department of Commerce's International Trade Administration. U.S. Commercial Service trade professionals in more than 100 U.S. cities and in more than 70 countries help U.S. companies get started in exporting or increase sales to new global markets. Visit http://www.trade.gov/cs/ to learn more.