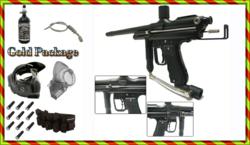 paintball gun packages will get you what you need
Morgan Utah (PRWEB) December 14, 2012
Action Center LLC introduces 3 complete one of a kind paintball gun packages just in time for Christmas.
Spyder Fenix paintball gun package
The only electric gun for the 2012 Kingman lineup is the Spyder Fenix. Equipped with great features right out of the box, The Spyder Fenix is a great buy for paintball players looking to be competitive on the recreational or speedball level.
Stock with the Leap II circuit board, and break beam (anti chop) eyes, The 2012 Spyder Fenix paintball gun packs a serious punch and rate of fire. The fully adjustable sabre trigger allows a player to adjust the feel and pull of the trigger exactly to preference.
The stock aluminum clamping feed neck on the Spyder Fenix will securely hold the loader in place, and keep it from falling off or moving around during games. Armed with an 11" micro ported barrel, the Spyder Fenix should have no problems zeroing in on opponents.
This paintball marker package is great for any player, and is priced for the parent that wants to save money.
Kingman Spyder Fenix complete package $174.99
Evil Omen Paintball Gun Package
This evil omen package contains
Evil omen black paintball gun
Ricochet Apache hopper Black
114ci 3000 psi carbon fiber tank (not in hydro),
gxg mesh sniper vest with three pods
coil remote with slide check
Autococker Trilogy Competition Select Fire Complete Paintball Package Gold
Gold Paintball Package includes: all brand new Autococker Trilogy Competition Select Fire black, Worthington 48 3000 High pressure air tank, Revolution 12 volt electronic hopper, Spyder 5+4 tournament pack, 10 pod package, pull thru squeegee, Spyder avant goggle
http://www.actioncenterpaintball.com