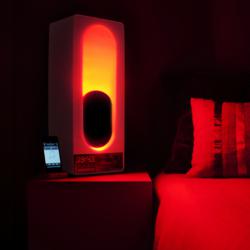 The latest scientific research allows to go one step further to make the falling-asleep and wake-up experiences more natural and to help guests in situations of jet lag.
Paris, France (PRWEB) December 14, 2012
Zyken announces its collaboration with Sofitel to deploy NightCove sleep and wellness systems in selected Sofitel hotels worldwide in order to create the best sleep, wellness and wake-up experiences in guestrooms, suites and spas.
NightCove is an innovative sleep system developed by Zyken with designer Patrick Jouin, and sleep scientific expert Pr Damien Léger, head of the internationally-recognized Paris Hotel-Dieu Sleep and Wakefulness Center. NightCove combines scientifically-validated LED lighting and acoustic technologies to provide luxury hotel guests and home users with high quality sleep experiences.
By influencing various physiological parameters like the body clock and melatonin levels, NightCove helps guests fall asleep easily and naturally, and then wake up gradually, completely rested and full of energy. Guests, including travelers who suffer from jetlag and fatigue, will find NightCove to be a perfect partner for restful nights away from home. Along with scientifically-validated functionalities for sleep, wake-up and 'power nap', NightCove offers other attractive features like ambiance and relaxation programs. In situations of travel and Jet Lag, the scientifically-validated lighting wavelengths of NightCove provide guests with a way to resynchronize the body clock more quickly.
"We are delighted to collaborate with Sofitel because sleep and wellness are core elements of a Luxury Hotel experience. Hotel innovation in sleep for the past ten years has been mostly focused on beds, pillows and bedding. While these elements remain critical to a good sleep experience, the latest scientific research allows to go one step further to make the falling-asleep and wake-up experiences more natural and to help guests in situations of jet lag." said Raphael Auphan, Zyken CEO. 'With NightCove, hotels are able to surprise and amaze guests who will discover in the guestroom an innovation which they don't have (yet) at home and which allows them to have a better sleep and wake-up experience.' added Raphael Auphan, Zyken CEO.
"By collaborating with Zyken and launching the deployment of NightCove in Sofitel hotels, Sofitel continues to innovate and to offer the best in terms of sleep and comfort for Sofitel guests worldwide." declared Geoffray Maugin, Sofitel Worldwide Vice-President Global Marketing, who added "Guests choose our hotels because they want a five-star treatment and we are committed to provide this on all aspects including sleep quality, comfort and wellness. Building on the splendid success of the Sofitel MyBed concept recognized for its ability to provide a perfect sleep, we wanted to go one step further and cater for the well-being of our guests from falling asleep to waking up."
Current Sofitel properties offering the NightCove experience include Sofitel London St James, Sofitel Paris Arc de Triomphe, Sofitel Munich Bayerpost, Sofitel SoBangkok, Sofitel Cartagena Santa Clara, Sofitel SoMauritius and new worldwide locations to be announced.
Beyond its availability in select Sofitel guestrooms, suites and spas, NightCove is also available for private purchase on Sofitel SoBoutique which already offers its acclaimed MyBed line. Guests who have discovered the NightCove experience in Sofitel hotels are now able to enjoy the NightCove benefits at home.
About Zyken
Zyken (http://www.zyken.com), headquartered in Paris, France, is a leading innovator in wellness & sleep systems for luxury hotel guestrooms, homes and spas worldwide. The Company's mission is to help people get a better sleep experience anywhere by leveraging the latest technologies and scientific research.
Zyken products deliver a unique combination of scientific research, advanced technologies and exclusive design to offer better sleep and wellness on an everyday basis. The development of the NightCove system involved considerable scientific research using the latest advanced technologies. The scientifically-validated NightCove light and sound product was designed and developed in Paris and is made in France to luxury standards.
NightCove (http://www.nightcove.com) has been selected by more than forty luxury hotels worldwide including Four Seasons Paris George V, Plaza Athénée Paris, Trianon Palace Versailles – a Waldorf Astoria Hotel, Fouquet's Barrière Paris, Riverton Hotel Sweden, Sofitel Paris Arc de Triomphe, Art Peace Hotel Shanghai, Sofitel London St James.
Sofitel Luxury Hotels - World class hotels and French elegance
Sofitel is the only French luxury hotel brand with a presence on 5 continents, with 120 addresses in almost 40 countries (more than 30,000 rooms). Sofitel offers contemporary hotels and resorts adapted to the needs of the various clients of today's luxury hotel sector who are looking for beauty, quality and excellence. Whether situated in the heart of a major city like Paris, London, New York or Beijing, or nestled away in a country landscape in Morocco, Egypt, Fiji or Thailand, each Sofitel offers a genuine experience of the French "art de vivre".
http://www.sofitel.com
NightCove available on Sofitel SoBoutique (http://eu.soboutique.com/)