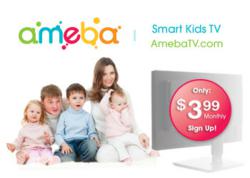 Parents can sign up for a free week of Ameba kids' streaming TV to check out Ameba's exciting library of family-friendly TV shows, movies, music videos and more.
Los Angeles, Calif. (PRWEB) December 14, 2012
Ameba (http://www.amebatv.com), a pioneering multi-platform children's streaming TV provider, today announces the addition of English Club TV's acclaimed language learning videos to its award-winning kids' programming library.
English Club TV viewers are immersed in a rich language environment designed to enrich vocabulary and improve language skills. The company's programs are intended to develop skills of audio perception, reading, speaking, and contribute to overcoming the language barrier. English Club TV is a unique educational offering for those who want to learn and improve their English. Developed by experienced educators and language experts, English Club TV has produced children's edutainment programs since August 2008.
Ameba is a popular independent children's streaming TV provider that features award-winning shows that kids love and parents trust, including: three-time Emmy Award-winning WordWorld; Emmy-nominated The Cat in the Hat Knows a Lot About That; CFTPA Best Children's Program BusyTown Mysteries; Emmy Award-winning Mother Goose Club; Emmy Award-winning The Zinghoppers; National Parenting Publication Award-winning and "Best Children's Album" Grammy Award-Winning The Sugar Free Allstars band; Gemini Award-nominated and Writers Guild of Canada Award-winning Ruffus the Dog; Gemini Award-nominated A World of Wonders; Kids First!-approved Parents' Choice Silver Honor-winning Ruby Skye P.I.; 2012 "Best Children's Album" Grammy-Nominated the Okee Dokee Brothers; and Parents Choice Gold Award-winning Mustard Pancakes.
Now it's easier than ever for kids to access their favorite edutaining shows on Ameba. If you're not already an Ameba subscriber, you can sign up for a week free to check out Ameba's exciting library of family-friendly TV shows, movies, music videos and more.
For $3.99 per month, Ameba serves up thousands of hours of engaging, educational programming. Ameba subscribers get unlimited, 24/7 instant access to thousands of hours of enriching, age-appropriate kids TV shows on the web, Google TV, Roku, iPhone, iPad, and iPod touch, LG Smart TV, LG 3D Blu-ray player, and LG Smart TV Upgrader.
"I'm glad that English Club TV programs will for the first time reach viewers in North America, thanks to Ameba," says Andrew Semchenko, Managing Director of English Club TV Ltd. "Partnering with Ameba is one more strategic step along the line of global presence of our content worldwide. I'm sure our content will be useful and fun for Ameba's young viewers to watch. In producing kids' educational content, we pay huge attention to children's development. Ameba has the resources in place to bring our safe, fun-to-watch educational content to so many children on their network of some 5 million Internet-connected consumer electronics devices throughout the U.S. and Canada."
"We're proud to be the first children's streaming TV service in North America to bring English Club TV's high-quality educational children's videos to our young viewers and their families," says Ameba founder and CEO Tony Havelka. "English Club TV's English language learning videos immerse children in a rich educational environment that has the potential to deepen and improve not only their budding vocabularies, but also their speaking skills, and we're excited to play a role in this important growth."
###
For more information about English Club TV, visit http://www.english-club.tv
or email press(at)english-club(dot)tv.
For more information about Ameba, please email Kim Lachance Shandrow at kim(at)amebatv(dot)com.