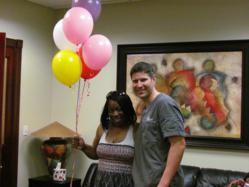 MyShape Lipo is the best liposuction clinic in the country!
Las Vegas, NV (PRWEB) December 18, 2012
Don't have money for liposuction, no problem, sign up and win a liposuction procedure. The team at MyShape Lipo has given away 6 liposuction procedures in less than a year. This isn't one of those contests that people enter and no one actually wins. There are real people from around the country that have won this contest and the proof is on their website.
The liposuction specialist has transformed many lives with this procedure. Gone are the days that one must simply accept their large frame. With minimally invasive liposuction, large volumes of fat can be removed in a single treatment revealing dramatic results. For those that have failed diet and exercise, some believe this to be a miracle. To finally have a trim waist, slim arms and only one chin, it's easy to see how this procedure can change ones life forever.
Tierra Donald, the winner of the contest has been a loyal follower of MyShape Lipo for nearly a year now. She reads every update on Facebook, Twitter, Google + and watches all of MyShape's videos on YouTube. Being from Rochester, NY, Tierra has searched the web for every clinic she could find that offers liposuction and claims "MyShape Lipo is the best liposuction clinic in the country." When she found MyShape Lipo, she was pleased to see that they ran a contest to win a liposuction procedure. After nearly a year of patience, her efforts have paid off big time.
She hopes to get her procedure done around January 20, 2013. As with most people, she is most concerned about her midsection and hopes to finally have a waistline like she did in her performing arts days as a dancer.
With the experience of nearly 10,000 liposuction procedures, patients are flying in from around the world for the specialty services at MyShape Lipo. For a complimentary phone consultation call 702-818-5476 or visit http://www.MyShapeLipo.com