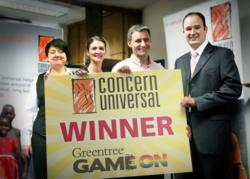 The biggest gains will be in their ability to track projects all over the world with a single system.
(PRWEB UK) 20 December 2012
Whether a new water supply is established in an isolated village in Malawi, or urgent disaster relief is needed in Bangladesh, staff from Concern Universal will be on the spot – and Greentree will be working behind the scenes.
Concern Universal, the charity organisation that won a £150,000 software implementation in the recent Greentree GAME ON competition, has already begun working with Greentree Partner Hoge 100 to get their new system up and running.
The Greentree system will be rolled out in all the countries where Concern Universal is running its aid projects – in Africa, Asia and South America.
"They're very, very keen to get the system in place," says Hoge 100's Director, Stuart Wild.
The first job will be to replace the existing financial system at Concern Universal's headquarters in Hereford. This is expected to be completed by next March, with other functions operational by May, followed by the international rollout.
"The biggest gains will be in their ability to track projects all over the world with a single system," Stuart explains.
GREATER VISIBILITY
The Greentree system will enable Concern Universal to be more proactive in managing its projects on the ground, with greater visibility of project budget, spend and activities.
That enhanced visibility will be of major benefit in countries like Malawi, where Concern Universal has 10 separate offices, each a 3-4-hour drive apart.
"We have one pot of money spread across several different areas, and at present there's no way of centralising a real time report that shows who spent what on projects, Greentree can offer that," says Systems & Services Coordinator, Vivienne Mair.
PUTTING COMMUNITIES IN CHARGE
Greentree will also enable Concern Universal to create a fully integrated database – a valuable resource to support its fundamental aim of creating sustainable development that the local communities can manage themselves.
"We start by working with the community. They decide where, for example, a water pump is to be located, we also train the community to clean, maintain and repair it." Vivienne explains. "Each programme is tailored to suit those in need so it becomes a sustainable solution."
The "base line data" compiled by Concern Universal's field managers will be accessible to staff in other countries, giving them guidelines on how to manage similar projects elsewhere. In times of emergency, regional statistics compiled and stored in Greentree will enable a quicker response than if the data is on a spreadsheet stored in a computer in a remote office.
Having ready access to financial records will also help to keep donors better informed – this is crucial in maintaining donor support.
But first: getting the new Greentree system in place.
"We plan to get together an international project team to ensure that every country programme's needs are met," Vivienne says. "This will include staff from all levels of the organisation, to ensure that no stone is left unturned to make the system work for us in the most efficient and effective way for everyone.
"Concern Universal is a decentralised organisation, so finding a configuration that will meet with every country's needs is going to be a challenge, but one which we are embracing fully as the benefits will be huge!! There are very exciting times ahead."
********************************************************
Show that you care – support Concern Universal