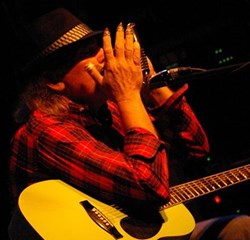 "Eric Sommer... One of the most incredible guitar players I've ever witnessed in person. Thank you...!"
- Jimmy Pelletier, Skateboard (April 9, 2012)
Asbury Park, New Jersey (PRWEB) December 25, 2012
On New Year's Day, Eric Sommer comes to Asbury Park, New Jersey.
The Saint is the premier music venue in Asbury Park, and is an excellent showcase for this singer's vocal, writing and guitar skills.
After years as founder and uber-guitar player for Boston power-pop cult band The Atomics - including shows and/or tours with The Dead Kennedys, Gang of 4, Mission of Burma and Nick Lowe bands Bram Tchaikovsky, Wreckless Eric plus acoustic acts such as David Bromberg and Jerry Douglas - Mr. Sommer appears to have come full circle back to the acoustic Americana roots he knows so well and does with skill and clarity.
Mr. Sommer tours continuously, both as a solo performer and with his trio The Solar Flares, and does around 270 shows per year. The live show crosses between jumped-up pop (Red Queen) and moody pop ballads (White Knuckle Girls), to rocking guitar compositions (Bayou Ballet) and political commentary (Europe, Europe).
"Sunny Afghanistan" is a song featured in the acoustic set that describes a mid-west ethics professor who trades in assured tenure where he teaches for a small hut in the hills near Kabul. Here he engages in arms dealing as a way to provide self-defense weapons to innocent Afghans and to restore the weapons the UN stole from the US, sold on the black market and pocketed the cash. And it's a true story.
The stage set for these live shows features 6-7 guitars, 7 small amps, a series of circuit bending pedals to manipulate the slide guitar, overtones, and feedback. In contrast to the nod to '80s wall of distortion sound is a crisp and clear finger-style guitar presentation that centers around open tunings and guitar techniques that cross the spectrum to deliver a raw, indie/pop/punk sound.
Mr. Sommer is also a writer and road poet, and has published two collections of verse. Included are a number of short stories about growing up in rural New Jersey, and one in particular -- "Mrs. Schmidt" -- describes a woman who lived next door to Eric Sommer and his family in Middlebush, NJ, and where "Happenings" were created by Alan Kaprow assisted by her son Clarence Schmidt. As Mr. Sommer describes in detail, every major artist came through her kitchen -- Jim Dine, Red Grooms, Claus Oldenberg, Bob Rauschenberg -- and he watched it all from the stool next to the kitchen table.
Ruth Schmidt and her kitchen were the subject of a sculpture by Eric Segal that is currently in The Whitney Museum, New York City.
Red Chairs and Black Pancake are two collections of poetry and prose from this multi-talented artist, and contain 10-15 written pieces each.
Mr Sommer will be available to sign photos, CDs, posters, T-shirts and occasional guitars. Red Chairs and Black Pancake will be available as well. You can preview some of the material online at the Eric Sommer website.
Eric Sommer is represented by Clyde is Thinking, and PR programs are managed thru MTGNY; Clyde is Thinking is a small boutique management agency located in London with US offices around the United States. You can contact Mr. Sommer at 202-255-1995 or email him thru CIT at eric(at)ericsommer(dot)com.
# # #