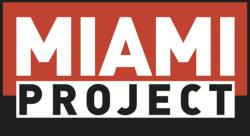 I was extremely impressed by the wide aisles, comfortable atmosphere and boutique nature of the fair and was delighted to find so many works that will enhance my collection. I am looking forward to returning to Miami Project next year.
Miami, FL / New York, NY (PRWEB) December 17, 2012
Miami Project's debut was a great success with robust sales and a steady crowd of 15,000-plus over the course of the six-day event. Sixty-five galleries from across the US and Germany presented an international group of artists' contemporary and modern works in all media.
In a market where there are so many Fairs and exhibitions, the organizers were intent to ensure that Miami Project stood out. According to Managing Partner Max Fishko, "There was a significant difference at Miami Project -- it was palpable. When you walked through the Fair, you didn't feel like you're coming into some crammed, noisy cattle market."
Managing Partner Jeffrey Wainhause explained, "The emphasis of our shows is to present our exhibitors in the best possible light. The bright and open space with easy-to-navigate layout, spacious aisles and various lounges both inside the fair and in the garden, enhanced the visitor experience."
Marty Margulies, one of Miami's most prominent collectors, confirmed that artMRKT's efforts paid off, saying, "I was extremely impressed by the wide aisles, comfortable atmosphere and boutique nature of the fair and was delighted to find so many works that will enhance my collection. I am looking forward to returning to Miami Project next year." Professor/Contemporary Art Advisor Douglas Maxwell concurred, saying, "This is the way all art fairs should look and feel." In fact, the common sentiment from the wide array of visitors was that Miami project was the best looking and buzziest fair this year after Art Basel Miami Beach.
Other notables browsing the aisles and purchasing at Miami Project included Beth Rudin DeWoody, Jason Rubell, Susan and Michael Hort, Marty Margulies and art advisors Julie Kinzelman, Heidi Lee, Karen Amiel, Jean Efron and Lea Weingarten. Also on hand, many leading museum curators and directors such as Carter Foster, curator of Prints and Drawings at the Whitney Museum of American Art, Bill Arning, director of the Contemporary Arts Museum Houston, Mint Museum Director, Kathleen Jameson and Des Moines Art Center Curator Gilbert Vicario, Don Bacigalupi, director of Crystal Bridges Museum and Miami MOCA Director Bonnie Clearwater.
At Miami Project, there was particularly strong interest in painting, new media and photography. According to Fishko, people were feeling expansive this year – and the sales at Miami Project certainly reflected that optimism. "There may be a little less going on at the low end of the market, but the middle and high end seem to be coming back in a very strong way."
Some important acquisitions were made included Marty Margulies' purchase of the entire installation of Nina Katchadourian's "Lavatory Self Portrait in the Flemish Style" from San Francisco gallerist, Catharine Clark. That installation will be recreated --replete with red walls and crown molding-- during next year's ABMB. Houston collectors Bernadino and Mary Arocha purchased four works from Kachadourian's "Seat Assignment" series including the new media work, "Acca Dacca." In addition, two museums are in discussion with the gallery about mounting a major traveling survey of the artists work. Chris Doyle's new media work --also on view in Clark's booth-- was purchased by the 21c Museum in Louisville, KY. Those pieces, along with his watercolors --also exhibited at Miami Project-- will be shown at the inaugural opening of the 21c Hotel's Bentonville location in 2013.
Morgan Lehman sold Kim McCarty's "Large Yellow Boy" to a Miami Art Museum board member as well as several works by Amy Parks to a major American financial advisory corporate collection. Forum Gallery has had lots of interest in works by Brian Rutenberg and Cybele Young and reported several sales from influential American realist Robert Cottingham's new "Scent Bottle" series. The Stanford Art Museum is considering a piece by Brendan Lott from Walter Maciel Gallery and a large-scale mixed media sculpture titled "Stumblebum" by Robb Putnam was a major draw. A large-scale Peter Oppenheim painting at Zevitas Gallery sold for $18,000 and Rena Bransten Gallery garnered museum interest in Ron Nagle and reported the sale of an important Vic Muniz work. DC Moore sold two Whitfield Lovell pieces; works by Ralph Humphrey, Nicholas Krushenick and Tadaki Kuwayama were sold at Gary Snyder. David Shelton sold works by both Alejandro Diaz and Vincent Valdez.
Artist Orly Genger, who will be the featured artist in Madison Square Park in May 2013, had her "Stack" installation at Larissa Goldston's booth sell to an important collection for $25,000. A rare black-and-white resin painting by Markus Linnenbrink on view in Patricia Sweetow's booth sold to a private collector for $32,000; she also saw sales success at the Fair with several of Zena Al-Shukri's works. Coagula Curatorial's Mat Gleason was delighted with the attention received by his program, saying that performance artist Karen Finley's commissioned "Sexting" series portraits were a big hit. He added, "The buzz on the Fair is off the chart."
San Francisco galleries Paule Anglim reported the sale of an important sculpture by Deborah Butterfield, and Cheryl Haines sold a work by internationally renowned Ai Weiwei, among others. Seattle-based gallerist Greg Kucera also did well with many artists, selling Dan Webb's "Rock" to an important Swiss collection and three sculptural paintings by Margie Livingston. In addition, a Claudia Fitch sculpture was snatched up by a Miami collector, and Gregory Blackstock's "The World War 2 Polikarpov Russian Fighters" was placed with a Toronto collection.
Many Los Angeles galleries also reported strong sales: Kopeikin Gallery placed Katrin Korfmann's triptych with a Chicago collector for $30,000; a grid of 15 Alejandro Cartagena's photographs from his "Car Pooler" series with a Miami-based collector; and Andy Freeberg's "Sean Kelly" sold to a museum in Kentucky. Angles Gallery had particularly strong sales with Tom LaDuke's paintings and photographs by Israeli photographer, Ori Gersht. Santa Monica dealer Richard Heller did well with works by Marion Peck, Devin Troy Strother and David Jien.
Other major highlights include Sean "Diddy" Combs' purchase of two Andrew Schoultz gold flag paintings at Marx & Zavattero Gallery and Usher's purchase of Andrew Lewicki's "Louis Vuitton Waffle Maker" from Charlie James Gallery.
About Miami Project
Miami Project (http://www.miami-project.com) is held annually in Miami and presents quality modern and contemporary artworks, installations and programs in an intimate environment that serves both seasoned and emerging collectors. The Fair's founders and Managing Partners Max Fishko and Jeffrey Wainhause launched artMRKT Productions in early 2011, and the company holds fairs in San Francisco, the Hamptons, Houston and Miami.