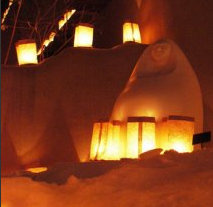 Santa Fe, NM (PRWEB) December 14, 2012
One of Santa Fe's most beloved holiday traditions, the Canyon Road Farolito Walk, lights up the hearts and souls of thousands who promenade this famous path on Christmas Eve. This event is featured on Santa Fe, NMs premier on-line visitor guide.
Small, sand-filled, paper bags illuminated with votive candles line the historic neighborhood streets and adobe walls. Carolers gather around the farolitos (Spanish for paper lantern; diminutive of farol, lantern; from faro, lighthouse, lantern; from Latin pharus, from Pharus, Pharos) or luminarias (small bonfires), and sing for joy as they warm themselves, and our hearts, from the cold night.
A hallowed holiday tradition in Santa Fe, the Canyon Road Farolito Walk on Christmas Eve brings out thousands of holiday revelers. They stroll up and down the famous street admiring the displays of farolito lights, singing carols around luminaries, or bonfires, and generally celebrating the holiday spirit.
Galleries line their gardens, courtyards and adobe walls with these lovely little lights made out of paper bags with and tea candles that burn brightly into the night. Some serve hot chocolate to the strollers, while others remain open, offering a place to warm up. Everyone is encouraged to dress warmly, and bring the whole family to this festive holiday event.
The following streets will be closed to cars for foot-traffic:
1. Canyon
2. Delgado
3. Acequia Madre
Streets that will be limited to light car traffic with officers posted:
1. Paseo de Peralta
2. East Alameda
3. Old Santa Fe Trail
4. Garcia St.
5. Camino del Monte Sol
Times and extra information:
The Farolito Walk is free, and open to everyone - especially those young at heart - of all ages. The event runs from 3:30 to 9 p.m.. No reservations or tickets are needed. The walk starts on Christmas Eve at dusk, is extremely popular, and draws thousands of people each year. Please be prepared for crowds and a slow moving pace. To avoid the rush, consider coming later in the evening around 8 PM. Strollers are very difficult to maneuver along the cobblestone streets and uneven sidewalks, in addition to blocking pedestrian paths and causing traffic jams. For the courtesy and enjoyment of everyone, please leave your strollers at home.
About SantaFe.com:
SantaFe.com provides locals and visitors to Santa Fe alike the most current interactive platform for events, music, arts, business, dining and lifestyle. SantaFe.com is a division of Hutton Broadcasting, located at 2502 C. Camino Entrada, Santa Fe, NM 87507
Contact Information:
Scott Hutton
SantaFe.com / Hutton Broadcasting
http://www.santafe.com
(505) 471-1067 (Media inquiries only, please)