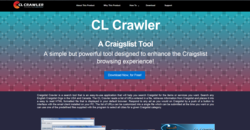 A simple but powerful tool designed to enhance the Craigslist browsing experience!
Raleigh, North Carolina (PRWEB) December 14, 2012
Imaginovation, a Raleigh Web Design and Software Company is pleased to release its first software product to market, The Craigslist Crawler. This is a software application search tool written in Java and is an easy to use application that helps its users search Craigslist for desired items and services.
This tool reads a list of URL's entered in a file, retrieves information from Craigslist and places the results into a well-structured and user friendly interface, which is displayed in any browser. In addition, the tool enables users to quickly respond to any Craigslist ad for a selected set of locations and categories. The most common and powerful purpose of this tool is it's ability to view and respond to many Craigslists ad's in a very short amount of time. Chief Marketing Officer, Michael Georgiou of Imaginovation states, "This tool has helped our company obtain clients, market our services, and even given us credibility in providing high quality software".
As a Raleigh Web Design Company, Imaginovation has utilized this tool locally and nationally as a viable marketing and lead generation method for capturing Craigslist users seeking numerous services. The tool is currently free and can be downloaded at Craigslist Crawler. This is the first product in a planned suite of marketing tools that the company plans to release in 2013.
In conclusion, the Craigslist Crawler is a highly functional web application designed to be user-friendly and straightforward. It is proven to have an immense searching ability and can index large amounts of data in a small time period. Therefore, when looking for specific services or products online you can always count on the Craigslist Crawler.
If you would like more information about the CL-Crawler or Imaginovation, please feel free to visit their respective home pages.