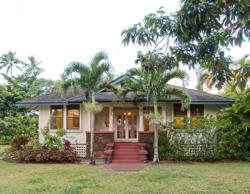 Fern Grotto Inn caters to vacationers who prefer to stay somewhere other than a hotel complex.
Kapaa Kauai, Hawaii (PRWEB) December 13, 2012
With the heat of the US presidential elections finally turned down, people are starting to notice the chill of winter creeping up on them. Many are looking forwards to spending a winter vacation in a warm place, and Fern Grotto Inn is proud to offer their range of vacation cottages in Kauai as the perfect retreat from the winter blues.
Located on the eastern side of the Hawaiian island of Kauai in the town of Kapaa, Fern Grotto Inn caters to vacationers who prefer to stay somewhere other than a hotel complex. With several different vacation cottages to choose from, couples as well as families will find the home away from home feeling the cottages provide very appealing. Fern Grotto Inn also acts as the perfect base from which to explore the many wonderful attractions that Kauai has to offer.
Visiting the beach is high on most peoples list when on vacation in Kauai, and there are many within easy reach of Fern Grotto Inn. One of those, is Lydgate Beach Park, which is highly regarded by locals and visitors as being perhaps the best family friendly beach on the island due to its sheltered waters. Many other beaches await discovery though, and using a vehicle rental can be the best way of getting to them. Paul Juma, who runs Fern Grotto Inn, said some guests choose to hire a vehicle for a couple of days or even for their entire stay. They find that the flexibility it gives them is far more convenient than using public transport."
A rental vehicle can also be used to visit some of the many natural attractions that the island is famous for. One such attraction that most visitors to the island will want to see, is the impressive Wailua Falls. Glistening water cascades down from over two hundred feet, and it is not hard to imagine the warriors of the old days testing their bravery by diving into the pool below. When kayaking Wailua River, it is also possible to travel up river to the fern Grotto, which is where the Kauai Cottage Rentals takes its name from.
In addition to sight seeing, it is also possible to enjoy any number of leisure activities during a vacation in Kauai. Surfing and body boarding are two of the more obvious choices, but other activities include mountain biking, fishing, sailing, golfing and even hot air ballooning for the truly adventurous. In short, a stay at Fern Grotto Inn can be as relaxing or energetic as each person staying there desires.
With a wealth of things to see and do, a holiday in Kauai is the perfect antidote to the long, cold winter months. For more information on vacation rental properties in Kauai, contact Paul Juma at 1-808-821-9836 and keep up to date with local news and information by reading his blog.