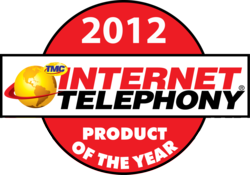 "The editors of INTERNET TELEPHONY have verified that LiveAction displays quality and innovation while providing solutions to real business communications challenges."
Honolulu, HI (PRWEB) December 14, 2012
ActionPacked! Networks™ announced today that TMC, a global, integrated media company, has named LiveAction® as a recipient of the 2012 INTERNET TELEPHONY Product of the Year Award.
LiveAction innovative network management tool focuses on QoS management and building a highly interactive mental model of the network. Maps of devices create a visualization of the network, from the intricacies of a single physical device to multi-layer topological information on connections, traffic, and routes. Network elements and links using color cues and graphic images indicate status and alarms. This helps users quickly see network activity so they can confidently manage incidents. LiveAction features and capabilities include:
LiveAction Flow: Offers a network topology view providing a unique end-to-end flow visualization of live traffic across the network. Users can quickly drill down to individual devices or interfaces for more detail on flow characteristics such as IP addresses, DSCP values, byte rates and count. This makes it easy to visualize trouble spots on the network and gain a better understanding of traffic patterns.
LiveAction QoS Configure: Enables IT engineers to create, edit, and apply QoS policies for Cisco® routers and Layer 3 switches on live networks with consistency and confidence. The QoS wizard and built-in templates can be used to apply policies based on Cisco® best practices or use the QoS GUI editor to create and edit policies from scratch.
LiveAction QoS Monitor: Provides the ability to track QoS performance on a per-class basis in real-time or for historical time periods. Engineers can gain a deep understanding of traffic and QoS behavior using LiveAction application (NBAR), class or queuing views. Monitoring and alerting of priority queue drops provides proactive notification of potential voice quality issues.
LiveAction LAN: provides, real-time Layer 2 visualization for networks, including trunk interfaces, port channels, VLAN associations and bandwidth percentages.
LiveAction Routing: Provides real-time routing visualization for Cisco networks that can identify reachability problems, routing loops and asymmetric paths that can affect traffic quality. The module's policy-based routing viewer/editor provides a high degree of control over traffic policy allowing users to route traffic easily and predictably over user-specified paths.
LiveAction IP SLA: Makes Cisco IOS IP SLA operations easily accessible for generating and monitoring synthetic network traffic to baseline network performance, test policy changes, or proactively monitor key network paths. Synthetic traffic types include data (HTTP, FTP, DNS, DHCP) and voice that can be used to measure latency, loss, jitter, and mean opinion core (MOS) for VoIP. Its highly interactive graphical interface delivers the functionality and flexibility of IP SLA features without the need to learn and use Cisco device command lines.
"Companies need to protect their network investments by integrating an intelligent and flexible network management system to help monitor, troubleshoot, and maintain their networks," said Dana Matsunaga, president and CEO, ActionPacked! Networks. "Being selected Product of the Year is a huge honor for ActionPacked! as the award recognizes LiveAction's capabilities to enable network engineers to literally see flows, routes, and QoS policies in real-time in a quick and easy graphical interface that would otherwise be difficult to conceptualize using command-line sources."
"It is with pleasure that we recognize ActionPacked! Networks with a Product of the Year Award. The editors of INTERNET TELEPHONY have verified that LiveAction displays quality and innovation while providing solutions to real business communications challenges," stated Rich Tehrani, CEO, TMC. "I would like to congratulate the team at ActionPacked! Networks for their commitment to advancing IP communication technologies."
2012 Product of the Year winners are published in the January/February 2013 issue of INTERNET TELEPHONY magazine. INTERNET TELEPHONY has been the authority in IP communication since 1998.
Download a free trial of LiveAction at http://www.actionpacked.com/liveactiondownload. For more information on ActionPacked! Networks, visit http://www.actionpacked.com.
For more information about TMC, please visit http://www.tmcnet.com.
About ActionPacked! Networks
ActionPacked! Networks is the leader in quality-of-service software for implementing VoIP, Telepresence, Unified Communications, Medianet and other mission-critical services. The company's LiveAction software increases network service quality and shortens outages by providing true understanding and precise control using rich visualizations and direct device interaction. LiveAction is a sophisticated network management tool that helps simplify the complexity of monitoring, analyzing, and configuring technology areas such as: QoS, LAN, NetFlow, Routing, and IP SLA embedded inside Cisco devices to provide an all-in-one solution that can support both QoS auditing and provisioning.
About INTERNET TELEPHONY magazine
INTERNET TELEPHONY has been the IP Communications Authority since 1998™. Beginning with the first issue, INTERNET TELEPHONY magazine has been providing unbiased views of the complicated converged communications space. For more information, please visit http://www.itmag.com. Follow INTERNET TELEPHONY magazine on Twitter or join our Linked In group. Subscribe or visit http://www.itmag.com.
About TMC:
TMC is a global, integrated media company that helps clients build communities in print, in person and online. TMC publishes multiple magazines including CUSTOMER, INTERNET TELEPHONY, M2M Evolution and Cloud Computing. TMCnet is read by as many as 1.5 million unique visitors each month, and is the leading source of news and articles for the communications and technology industries. TMC is also the producer of ITEXPO, the world's leading B2B communications event, as well as industry events: M2M Evolution; Cloud4SMB Expo; DevCon5; HTML5 Summit; Super Wi-Fi Summit, CVx; AstriCon; StartupCamp; MSPWorld and more. Visit TMC Events for a complete listing and further information.
For more information about TMC, please visit http://www.tmcnet.com.
###
ActionPacked! Networks and LiveAction are registered trademarks of ActionPacked! Networks. Cisco is a registered trademark of Cisco Systems, Inc. and/or its affiliates in the United States and certain other countries.
ActionPacked! Networks Contact:
Ray Hadulco
ActionPacked! Networks
808-840-8656
rhadulco(at)actionpacked(dot)com
TMC Contact:
Jan Pierret
Marketing Manager
203-852-6800, ext. 228
jpierret(at)tmcnet(dot)com