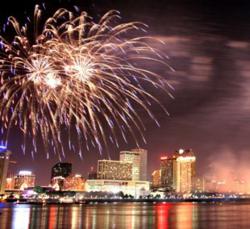 I look forward to joining thousands of citizens and visitors," said Mayor Mitch Landrieu, "to shine a spotlight on our city as we bring in 2013.
New Orleans, LA (PRWEB) December 14, 2012
The French Quarter will be alive with revelers for its 2013 NOLA New Year's Eve bash. Expected is a crowd nearing the 50,000 mark, with parties spread throughout the Vieux Carre. Local restaurants will serve up Reveillon dinners, while bars will be decorated 'with bells on' to ring in the New Year.
New Orleans Tourism Marketing Corporation, the city's official leisure tourism promotion agency, in collaboration with the Crescent City Countdown Club (CCCC), will coordinate the Decatur Street celebration in front of Jackson Square with performances up to the midnight countdown.
A newly renovated 8' tall by 5' wide two-dimensional fleur de lis ornament will descend a 25-foot pole atop Jax Brewery Condominiums to launch the exquisite fireworks, titled "Symphony in the Sky." Made of plywood with weather-treated cloth stretched over the frame, the fleur de lis is adorned with aluminum ribbons and LED lights, making it easier to view from both sides.
"I look forward to joining thousands of citizens and visitors to shine a spotlight on our city as we bring in 2013," said Mayor Mitch Landrieu.
Once the fleur de lis drops, a 6' high by 4' wide "New Year" board will light up with two hundred 25-watt clear bulbs announcing the official arrival of the New Year. The now famous 6' tall "Baby New Year," wearing a purple and gold diaper, will again be perched on the corner of the JAX rooftop for all to see.
"Baby New Year" first appeared in 2000. It survived Hurricane Katrina and was found floating in the Barth Brothers' den. With a Styrofoam center, "Baby New Year" still wears his Saints helmet, added in 2010 when the New Orleans team won the Super Bowl. This year, an LSU and a Hornets flag will flank each side of the baby, along with other special surprises that showcase the spirit of New Orleans.
"There is no better time to live in and visit New Orleans," said Mark Romig, President and CEO of NOTMC. "From this iconic celebration, we move on to the Sugar Bowl, Super Bowl XLVII, Mardi Gras, the NCAA Women's Final Four and festivals literally every weekend in 2013."
Simulcast live on Magic 101.9 FM and WWL AM and FM and WWL.com, the NOLA New Year's Eve celebration will be enjoyed in more than 38 states across the U.S. and on the worldwide web. At the stroke of midnight, the fireworks display will illuminate the sky and be choreographed to soulful New Orleans music. Also included will be the fight songs of visiting Sugar Bowl teams from Florida and Louisville. As the fight songs play, the sky will light up in the teams' colors.
Schedule of Events on Decatur Street at Jackson Square:
9:00 - 9:40 Brassaholics
9:40 - 10:00 MCs
10:00 - 10:40 Mia Borders
10:40 - 11:00 MCs
11:00 - 11:40 Bonerama
11:40 - 12:00 MCs and countdown
For sponsorship and more information about the fireworks show and fleur de lis drop, log on to CrescentCityCountdown.com or call (985) 630-4604 or (504) 826-9701.
###