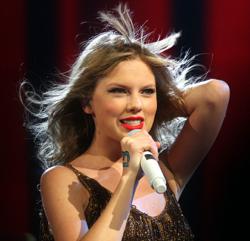 New York, NY (PRWEB) December 14, 2012
Here's an early Christmas treat for fans of Taylor Swift. The much-anticipated RED Concert Tour has recently added 12 new dates and venues. This gives fans more opportunity to see the music icon perform live on stage.
Coinciding with the release of the latest album, The RED Concert Tour is slated to start on March 13, 2013 at Omaha, Nebraska. Shows are scheduled across the United States and Canada. The tour will culminate with a three days of shows at Nashville, Tennessee on September 19, 20 and 21.
Joining Taylor Swift on the Tour will be best-selling singer, composer and musician Ed Sheeran. He is one of the fastest rising stars from the UK.
Fans are looking forward to the RED Concert, in part because of the success of the RED album. Recently released, Taylor Swift's RED Album sold 1.2 million copies in the first week alone. This has given Taylor Swift the distinction of being the only woman, and only the second artist, to have two albums which sold more than a million copies in the first week. The album is now the second on list of copies sold for 2012.
Fans can start buying their tickets to the Newark shows starting on December 21. Tickets to the Charlottesville show will start selling February 22. Tickets to the other new venues will start selling on December 14. So hurry, buy your tickets now!
The additional shows will be in:
Cleveland on April 25th (4/25/13)
Indianapolis, April 26th (4/26/13)
Lexington, April 27th (4/27/13)
Louisville, May 7th (5/7/13)
Houston, May 16th (5/16/13)
Austin, May 21st (5/21/13)
San Antonio, May 22nd (5/22/13)
Phoenix - Glendale, May 28th and 29th (5/28/13) and (5/29/13)
Salt Lake City, June 1st (6/1/13)
Wichita, August 6, August 6th (8/6/13)
Tulsa, August 7th (8/7/13)
Portland, August 30th (8/30/13)
Tacoma, August 31st (8/31/13)
Fargo, September 6th (9/6/13)
St. Paul, September 7 & 8 (9/7/13) and (9/8/13)
Greensboro, September 12th (9/12/13)
Raleigh, September 13th (9/13/13)
Charlottesville, September 14th (9/14/13)
Newark, March 27th, 28th & 29th (3/27/13), (3/28/13) and (3/29/13)
CheapConcertTickets.me delivers tickets to sold out concerts and events worldwide when no one else can, and they do so at discounted prices. As a member of TicketNetworkDirect, they can guarantee the delivery of tickets on time for sporting events, NASCAR, NBA, NFL, and NHL, and for Taylor Swift concert tickets. With CheapConcertTickets.me customer service is a priority, for more information email support(at)cheapconcerttickets(dot)me.