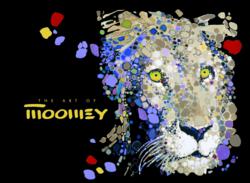 "I am excited to offer these 100 collectable pieces," said Moomey, "the book itself captures many of my favorite works, and then the Publishers addition of the beautiful packaging, make it the perfect Holiday gift."
Tucson, Arizona (PRWEB) December 14, 2012
Internationally renowned Artist Bill Moomey will debut his Signature Edition book for the holiday season. The spectacular collector's version of The Art of Moomey: A Retrospection is bound in Elite Ebony Leather and limited to only 100 pieces! The book is displayed in an exquisitely designed 18″x 20″ presentation case, nested in a dramatic, red velvet book well. This elegant version also includes a separate original graphite drawing signed by the artist. This beautiful, limited collectable is being offered at billmoomey.com for a 20% discount or just $800.
"I am excited to offer these 100 collectable pieces," said Moomey, "the book itself captures many of my favorite works, and then the Publishers addition of the beautiful packaging, make it the perfect Holiday gift." The original graphite drawings detail the distinctive Moomey style of wildlife, rodeo, and Western themes. No two are alike and include buffalo, elephants, tigers and lions, to capturing the spirit of cowboys, bronco riders and steer wrestlers. There are Native Americans and early settlers of the West, too.
The Art of Moomey captures Bill's design depth and progression, from wine and liquor bottles to toys and games, from museum architecture to international restaurant menu design. Visually exciting, the book has Moomey art in multiple mediums. There are, of course, Bill's oil paintings, several of which remain available for sale, along with a selection of life size bronze sculptures. Many of the oil pieces are complimented by small pen and ink sketches, richly adding to the great story that unfolds as you make your way from cover to cover.
To take advantage of this limited time offer and receive this Collector Edition at a 20% discount just in time for the Holidays, click here. Also, to learn more, we invite you to the newly launched dynamic website http://www.billmoomey.com.
About Moomey:
Recognized internationally with art represented in 15 countries, Bill Moomey's award-winning works are exhibited in museums and private collections coast to coast, and include commissioned portraits and life size bronze sculptures. Landscapes and wildlife – horses and cougars in particular – are his forte, with signature cowboy characters of all genres inspired from his own horse ranching days. The American Quarter Horse community knows Bill well as a prior president of their National Association, and Coy's Bonanza, the line of quarter horses that shaped the contemporary breed. His African art pieces are directly influenced by big game hunting and filming for Walt Disney documentaries from earlier in his life.
A beautiful and diverse collection of Moomey's finest work is presented in the book The Art of Moomey: A Retrospection, published in partnership with Nighthorses Fine Art & Publishing of Tucson, AZ, which also represents Bill's artwork. The book is available in hard cover, perfect bound, and a Limited Signature Edition leather bound version in library presentation box with a unique piece of original art. http://www.nighthorses.com.