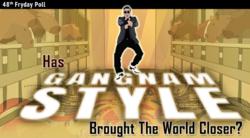 The Infographic takes a closer look at all the popular parodies and performances inspired by 'Gangnam Style', added to a World Map
San Jose, CA (PRWEB) December 14, 2012
"Gangnam Style" is a Korean pop single by the South Korean rapper and musician Psy. Psy officially released the song on July 15, 2012, as the lead single of PSY 6, the singer's sixth album. Upon release the single opened to the number one slot on the national record chart of South Korea - Gaon Chart. On YouTube the song became a major hit and hit viral status. MapsofWorld takes an Infographic look at the hit single which has now become a global sensation and its outreach. In their latest feature from the FryDayPoll series, MapsofWorld asks "Has Gangnam Style Brought The World Closer?"
On November 24, 2012, it surpassed Justin Bieber's Baby as the most viewed song in YouTube history. As of December 7, 2012, Gangnam Style has been viewed 901 million times on YouTube and Baby has been viewed 809 million times. On September 20, 2012, "Gangnam Style" was recognized by Guinness World Records as the most "liked" video in YouTube history – as of December 7, 2012, the video has 5,731,675 Likes. Apart from gaining a number of awards, Psy was also recognized by the United Nations as a global sensation for his popularity. The Infographic takes a closer look at all the popular parodies and performances inspired by 'Gangnam Style'. Also like other FryDayPoll features, MapsofWorld calls users to vote and share their views on their website and post on their social networks.
Mapsofworld.com is one of the world's largest mapping and content portals and has been featuring debates about a variety of topics for the past 48 weeks. The website has over 25 million map downloads till date and has over 66 million visitors to its credit.
About the company:
MapsofWorld.com is a multilingual portal offering high-quality maps and information across geographies and platforms. With special focus on educational content, the portal has thematic as well as interactive maps on all major platforms: Web, iPhone, iPad, iPod, and Android. World Atlas and World Quiz are two highly successful educational apps. Other services offered are custom mapping, content digitization, and the online map store.
For more information, please contact:
social(at)mapsofworld(dot)com
MapXL Inc.
10 S. Third Street, Suite 310,
San Jose, CA 95113