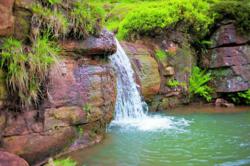 Peak District Online prove there is water, water everywhere in the gorgeous National Park
Peak District, UK, 14th of December 2012 (PRWEB UK) 14 December 2012
The Peak District is a land of great diversity split between the Northern Moors and the wilderness areas of the Dark Peak and high ridges of the White Peak. A land not known for its lakes; the team at Peak District Online prove there is water, water everywhere in the gorgeous National Park, and certainly lots of it to drink.
"As the rain pours down across the land and the rivers fill their coffers, why not marvel at the spectacular waterfalls of Padley Gorge?" Invite the team at Peak District Online. With a website dedicated to providing the largest Peak District guide for accommodation, the team at http://www.peakdistrictonline.co.uk pride themselves in providing visitors to the area with facts, figures and fun. Their latest pages describe the different types of water available to visit for anyone wanting to get their toes wet.
"There are so many beautiful rivers trickling through the Peak District, we are trying to mention them all," explains Steve Wake, director and landscape photographer for Peak District Online. "Considering we are not known for our lakes, we have lots of reservoirs, which are truly spectacular and we couldn't wait to feature new pages all about this slippery element."
What started out as a small family run business is now a monster of a website which attracts over 200,000 unique visitors each month. http://www.peakdistrictonline.co.uk is the largest Peak District guide for accommodation anywhere in the UK and the team at PDO surprise even themselves when they research and discover new places for their readers to visit.
With a whole host of pages dedicated to all that is Peak District, the team at PDO are very proud to announce the release of yet more informative and interesting new pages, providing visitors to the Peak District with all they need to know about the area they have chosen to spend their holiday.
"Our website is designed for holiday accommodation owners to share their own websites, so visitors to our site have all they need at the click of a mouse," explains James Dobson, director for Peak District Online." It's not all about having to pay to get into attractions in the Peak District, because most of our splendour is absolutely free. We have dark grit stone tors and crags shaped by the weather warming wonderful Tolkien-esque shapes around the landscape all over the Peak District and lush green pastures crisscrossed with white dry stone walls and littered with livestock."
He goes on to say, "We have thousands of options for our readers to look through, all in one convenient place, but we don't stop there. Our long term aim is to cover as many places there are names for, places to go, things to do throughout Derbyshire. We research and explore interesting activities for holidaymakers to partake in, as well as providing backgrounds, guides and useful information, which sometimes isn't so accessible for visitors once the holiday actually begins."
"Where to go and what to see whilst on holiday is one of the most important parts of having a break," says Steve." This is just a small selection of our brand-new pages dedicated to what to see and where to go around the Peak District."
The team at Peak District Online pride themselves on a winning website which has brand new pages added on a weekly basis.
Lots of sights and scenery are totally free to explore and are hidden in all parts of the Dales but Peak District Online explain where to find them. See the new pages added to the Peak District's favourite online holiday accommodation directory every week.