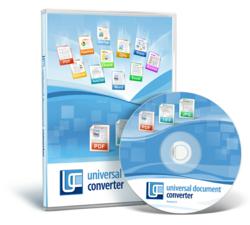 I have also found the Universal Document Converter team to be extremely helpful. That is what I call "service" ... especially in today's business world, which is 100% "do-it-yourself" and "serviceless"!
Chantal Bally, Venice à la Carte Sas, Italy
(PRWEB) December 18, 2012
As part of a holiday promotion, fCoder Group has dropped the price on its flagship software, Universal Document Converter, by 50%. According to the company's vice president, Mikhael Bolgov, the discounted price will only be available through December 31, 2012.
Universal Document Converter is a comprehensive solution for converting documents of any type into Adobe PDF or graphical files. The underlying basis of Universal Document Converter is virtual printing technology. As a result, exporting Microsoft Word documents, Microsoft Excel tables, Microsoft PowerPoint presentations and Autodesk AutoCAD drawings into a chosen format is not any more complicated than printing on a desktop printer.
Universal Document Converter can prepare documents to be published on websites, protect them from unsanctioned copying and changes when sent by email, save time in the preparation of PowerPoint presentations, and simplify the process of sending materials to a print shop or publisher. In addition, the software can lower expenses on the development and implementation of a corporate document workflow system.
Customer's opinion
"As a meeting planner, the Universal Document Converter program is essential for me. I am not a software expert and therefore appreciate simple programs. With the UDC program, I am able to convert PDF files into a JPEG or Tiff or other format. This means I can then insert the file in a Power Point presentation and then add text to the file. This is a great help when it comes to floor plans, etc. which need to be commented on."
"I have also found the Universal Document Converter team to be extremely helpful. When I changed computers and was not able to download the software with my old serial key from three years before, I wrote to the UDC team. They immediately sent me a new software key. That is what I call "service" ... especially in today's business world, which is 100% "do-it-yourself" and "serviceless"! Thank you, UDC team!" -- Chantal Bally, Certified Meeting Professional, Venice à la Carte Sas, Italy
Pricing and availability
A demo-version of Universal Document Converter 5.5 is available for free from product's web-site:
http://print-driver.com/download/
The full price of a single-user license for Universal Document Converter 5.5 is $69. To order with holiday discount, go to:
http://print-driver.com/order/holiday-discount.html
About fCoder Group, Inc.
fCoder Group, Inc. provides robust digital document and image processing applications to corporations, educational institutions, government agencies, and individual consumers worldwide. The company, which was founded in 1998 and is headquartered in Alexandria, Virginia, designs and develops its software solutions within its three divisions: document imaging, image processing, and digital photo editing.