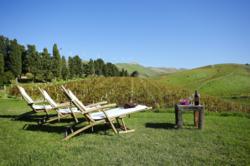 Sicily (PRWEB UK) 17 December 2012
Between the city and the sea: The 8-bedroom villa Olivetana is in a great location for a short break, less than half-an-hour from Palermo airport, a short drive to Palermo city centre and just a five minute drive to the lively Mondello beach resort. The villa is located in an elegant residential area less than one kilometre from the bars, night clubs and restaurants at Sferracavallo and Mondello, tailor made for anyone in the group looking to party the night away.
Perfect for celebration breaks, the villa has a large table indoors and out for entertaining and offers a personal chef service. A four-night break at Olivetana with http://www.soloSicily.com starts at £1935 (sleeps 16) in May.
Vineyard stay: Stay on a working winery in western Sicily and enjoy a wine holiday with a group of friends (enough space to accommodate 14), with independent accommodation and without the restriction of daily organised tours and excursions. Find out about wine-making during a stay at Cantine Virzì, a working winery on the Spadafora estate which is situated on the famous 'Strade del Vino.' Enjoy visiting some of Sicily's greatest treasures including the Greek ruins at Selinunte and Segesta and the magnificent Norman cathedral at Monreale. Alternatively, continue the wine-making theme with a trip to Marsala and specifically the Cantine Florio.
Stay in a one-bedroom apartment, with views over the vineyards and shared use of a large pool and dine together in the restaurant. Prices start at £115 per apartment per day (accommodation only) with http://www.soloSicily.com. Return flights Luton-Trapani (48 miles) from around £80 per person.
Aristocratic estate: Villa Barresa is the archetypical old-style aristocratic villa, set in the midst of a vast citrus plantation in the province of Syracuse in eastern Sicily. Indoors, there are several living and sitting-rooms but it is ultimately the magnificent tropical plant and palm tree-filled garden that differentiates this villa. Additional services on offer include daily cleaning and an optional chef service which allow you to sit by the pool or under the cool of the covered gazebo or terrace and drink in the atmosphere while someone else sees tidies up and whips up gourmet meals for you.
A four-night stay at Barresa starts at £2095 (sleeps 12) in May with http://www.soloSicily.com. Return flights to Catania airport (30 kms) with Easyjet or BA.
soloSicily (http://www.soloSicily.com, tel. 020 7097 1413) offers accommodation in apartments and villas throughout inland and coastal Sicily.